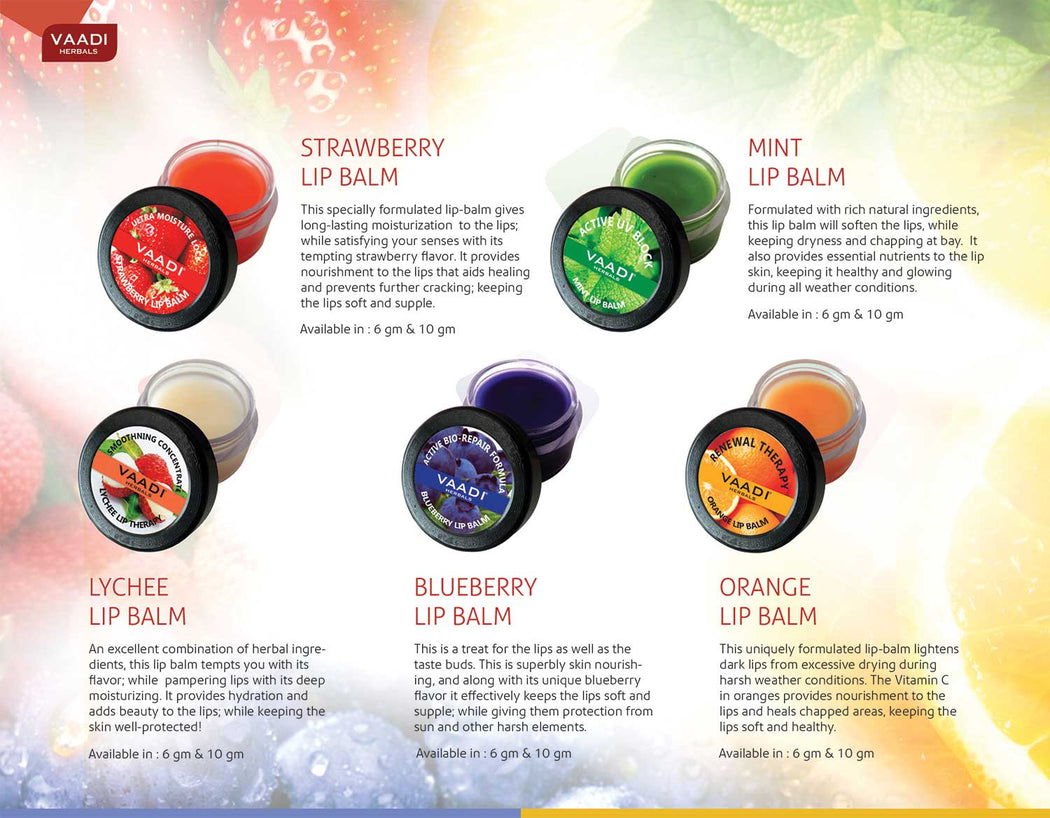 Pack of 4 Lip Balm - Strawberry & Honey (10 gms x 4 )
M.R.P. incl. of all taxes.
Vaadi Herbals Lip Balm Strawberry & Honey contains strawberry extracts, Vitamin-E, Honey and Almond Oil.

Ingredients : Almond Oil (Prunus Amygdalus Dulcis Oil), Honey (Mel Extract), Vitamin E ( Tocopheryl Acetate), Soya Oil (Glycine Soja), Steam Distilled Strawberry Extract (Fragaria Vesca Fruit Extract), Strawberry Essential Oil (Fragaria Vesca Fruit Oil), Organic Beeswax (Beeswax), Olive Oil (Olea Europaea), Wheatgerm Oil (Triticum Vulgare)

Why do lips need special care ?

Biologically, lips do not have oil glands. Therefore, lips must be protected from the external damage which could be caused due to external factors like harsh sun,cold weather or extreme climatic conditions. Lip care is as essential as proper skin care because chapped or dry lips aren't a pleasing sight and show a low level of personal care and hygiene. Therefore, keeping a lip balm handy is a good way to keep feeding lips with all essential and required moisturizing elements.

Strawberry:

The cure to blistered, chapped lips Strawberry Extracts prove to be effective soothing agents for dry, chapped and blistered lips providing the necessary moisture and makes lips petal soft and kissable. Strawberry Extracts are rich in alpha-hydroxy acid which helps in clearing dead skin accumulated on the lips, revealing soft, rosy pink and beautiful lips. Also, strawberries are excellent lightening agents. They help in removing the tan and darkness from the lips yielding renewed and shiny lips. All this and the yummy taste of strawberries and fruity smell, this lip balm is a tempting treat for the lips.

Lip-nourishing formula:Honey+Almond Oil

Lips are an eminent part of the face and the body. A very few know that the skin of the lips is way thinner than the rest of the skin on the body. Therefore, lips require all the more care and attention. Honey ensures that the lips retain the natural moisture and do not look dry or chapped. Honey traps the moisture and keeps the hips hydrated for a long time. Also, honey safeguards the lips from external factors. When it comes to almond oil, being thin, it penetrates easily and heals chapped lips giving them a smooth and lustrous appeal. And when combined with honey, it benefits the lips in the most subtle and effective way. Almond oil is an effective cure to dryness and sun burns. It leaves lips petal soft.

The sun-shielding action of Vitamin E

Exposure of lips to pollution, dust, extreme climatic conditions, sunlight is unavoidable. Thus, Vitamin E being an excellent anti-oxidant, cures the damage caused on lips by the direct exposure of the harmful UV rays. Vitamin E added in Lip-Balm makes it a perfect lip-care product because it not only smooth the texture of the lips, but make them all the more beautiful, soft and well protected."

Clean Lip Gently And Use Your Fingers To Apply The Lip Balm To Your Lips.
Country of Origin: India
Manufacturer & Packer: Vaadi Herbals Pvt. Ltd.
Address: A-40, Jhilmil Industrial Area, Shahdara, East Delhi, Delhi - 110095.