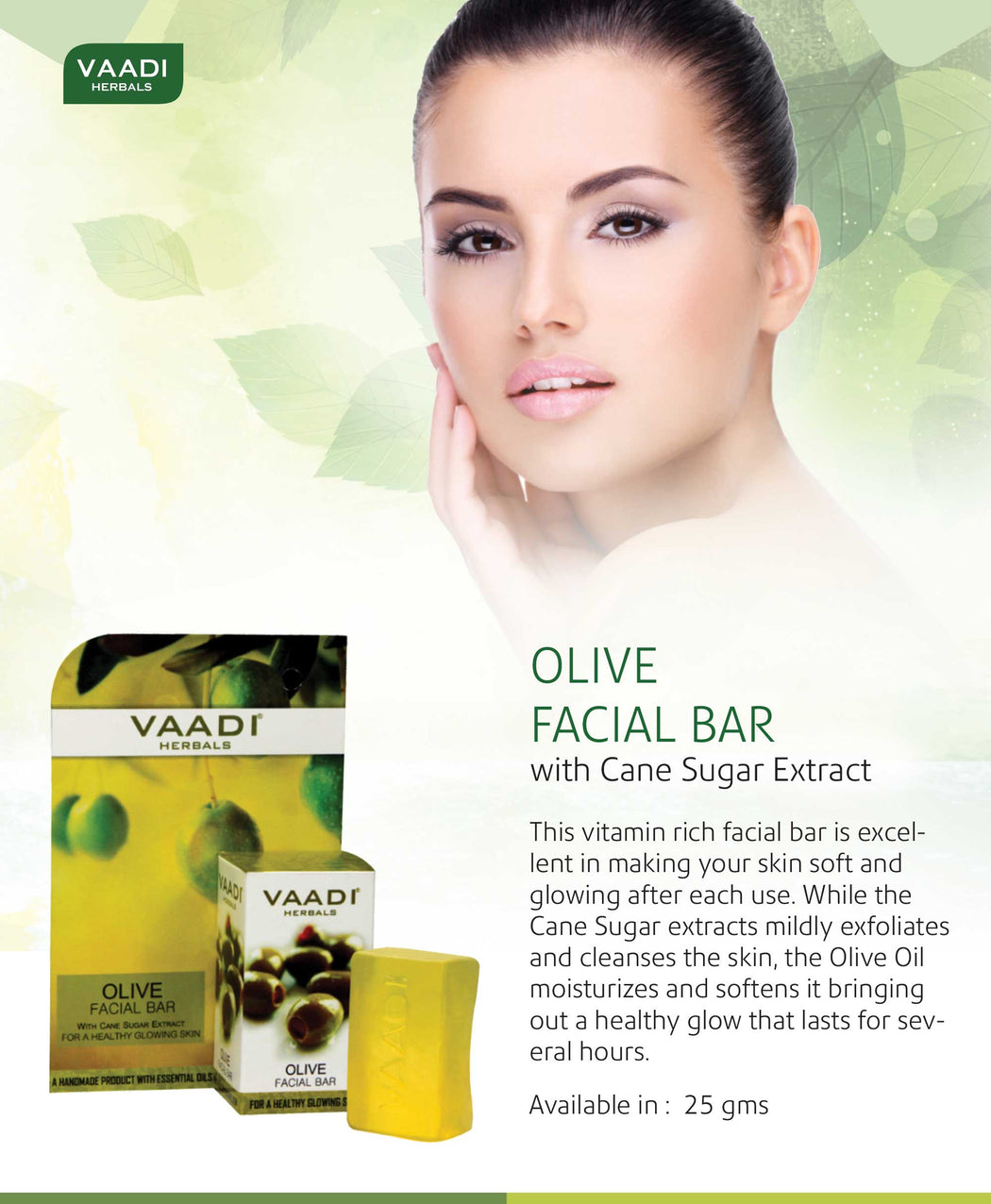 Pack of 4 Olive Facial Bars with Cane Sugar Extract (25 gms x 4)
M.R.P. incl. of all taxes.
This vitamin rich facial bar specialises in making your skin soft and glowing. While the Cane Sugar extracts mildly exfoliate and cleanse the skin, the Olive Oil moisturizes and softens it bringing out a healthy glow.

Ingredients : Shea Butter (Butyrospermum Parkii Butter), Olive Extract (Olea Europaea Leaf Extract), Apple Extract ( Pyrus Malus Fruit Extract), Cane Sugar (Sucrose), CoconutOil Derivative (Cocos Nucifera), Papaya Extract (Carica Papaya Fruit Extract), HONEY ( Mel Extract), DM Water (Aqua)

How is a fruit-based soap more effective than a chemically-made soap ?

Exposed to the environment 24*7, the skin is a very important yet sensitive organ of the body that needs care and nourishment time to time so as to maintain its soft texture and immunity against damaging effects in the surroundings. While chemically-made soaps have a heavenly fragrance they boast of, handmade soaps made with fresh fruit extracts provide the skin with that gentle touch and important nourishment it needs to breathe and carry on its functions efficiently. Handmade fruit soaps keep the moisture intact and provide the skin with the goodness of the fruit pulp and a plethora of vitamins and minerals making it stronger and softer. Chemical-based soaps strip off the natural moisture of the skin making it dry and patchy over the time with frequent use. No matter how perfumed, these soaps lead to an imbalance in the pH of the skin making it prone to allergies and damage by sun and external factors like sun, wind, dirt and pollution.

Why is Olive known to be excellent for skin care ?

Olive is a rich source of anti-oxidants; including Vitamin E, poly-phenol and hydroxytyrosol. These safeguard the skin against free radicals as well as repair any damage done by them. Sun exposure makes it worse and triggers the aging of the skin. Olive keeps these free radicals at bay thereby retarding the premature aging. It stimulates cellular regeneration. This makes it an excellent scar reducing agent; almost making marks and scars disappear in thin air. Its hydrophilic nature, fatty acid content as well as it deep penetrative ability makes it an excellent moisturizer for dry flaky skin. The best thing about olive is that it caters to every skin type: dry, normal, oily or combination skin. It prevents blackheads and keeps the skin moisturized for long. The hot winds, winter chill or the monsoon will never show up on your skin as long as Olive is shielding you. Olive heals sunburns, prevents tan and reverses the sun's effects with regular use.

How does Cane Sugar bring about a drastic change in skin texture ?

Cane sugar is an extremely rich source of Glycolid acids. These are natural exfoliating agents. They unclog pores and clear off dead skin debris making way for new skin to shine with health. Antiseptic in nature, Cane sugar helps in easing away skin infections and give a rich nutrient therapy to the skin. Regular use of Cane sugar will make skin's texture more even toned and reduce the marks and blemishes as skin is cleaner and clearer with every wash. Skin suffers photo damage, IE. damage from the sun. The glycolic acids help in repairing the sun's damage. This prevents premature aging and deterioration of the skin's natural beauty. Cane sugar promotes blood regulation which in turn makes skin pink, healthy and glowing with health.

How is Apple beneficial for the skin ?

Grime and dirt rip off the beauty and make your face look ordinary, unpleasing and unhealthy. Pollution and adverse weather further ruins the appeal and you end up with a dark complexion, marks, blemishes and numerous problems to deal with. An apple treatment is all you need to get rid off it all and bring out a healthy skin. Rich in Vitamin C, B and A, coupled with powerful anti oxidants, Apple pampers damaged skin, treats sun burn and tan and gives you the gift of a dazzling face. Glycolic Acid in apple unclogs the pores, scrubs off the dead cells and lightens the skin tone. Promoting the cell renewal process, apples remove blemishes and acne effectively. Apple maintains the pH balance of the skin preventing allergic outbursts and inflammations. Dark circles, fine lines, dark spots and wrinkles vanish away when apple works its wand on your skin. Premature aging is a bygone thing when apple is your friend. It keeps the skin clean and moisturized for long.

What does Papaya do to beautify your skin ?

Acting as a natural moisture cover, Papaya Extracts are great exfoliating agents as well. While keeping the suppleness of the skin intact, Papaya gently cleanses off dirt and impurities from the skin's surface and deep pore levels to yield a polished and perfect complexion. Hailed as the forerunner in skin whitening products, Papaya Extracts even tone the skin contour and whiten the skin from within. Papaya is an excellent tan remover. It cancels out the harmful effects of UV rays on the skin and imparts an envious glow on the skin.

Apply Over Wet Face And Neck. Gently Work Up Rich Lather. Massage Gently In Circular Motion. Rinse Off And Pat Dry.
Country of Origin: India
Manufacturer & Packer: Vaadi Herbals Pvt. Ltd.
Address: A-40, Jhilmil Industrial Area, Shahdara, East Delhi, Delhi - 110095.