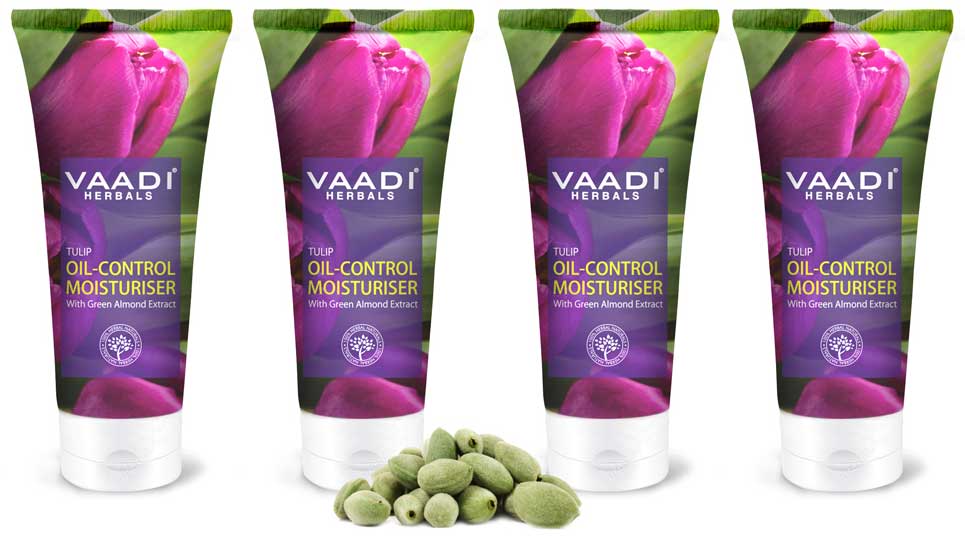 Pack of 4 Tulip Oil Control Moisturizers with Green Almonds extract (60 ml x 4)
M.R.P. incl. of all taxes.
This has been specially formulated to grant your skin freedom from that "oily" look. Both, Tulip and Green Almond Extract, regulate the production of sebum (oil); ensuring that your skin is just perfectly moisturized; without making it look oily. The Saponins content further leaves your skin feeling feathery soft and supple.

Ingredients : Steam Distilled Extract Of Tulip(Tulipa Gesneriana Flower Extract), Pure Green Almond Extract (Prunus Amygdalus Dulcis), Cucumber Extract (Cucumis Sativus), Coconut Oil Derivative (Cocos Nucifera), Shea Butter (Butyrospermum Parkii), Carrot Extract (Daucus Carota Sativa), DM Water (Aqua)

Why are Moisturizers an important part of skin care ?

Moisturizes are an eminent part of skin care because skin is the most sensitive body part and needs intensive care and protection. It becomes impossible to care for oily skin as excess secretion of oil can be the root cause of several other skin problems including acne, pimples, blackheads and even tanning as the skin attracts dust which further traps UV rays on the surface of the skin. Therefore, a good moisturizer provides a subtle relief from the dullness, works as an excellent skin softening agent. There is a wide range of beauty products in the market that claim to be apt moisturizers for the skin. However, the chemical ingredients added may provide a quick benefit, but in long term, the skin quality may deteriorate. The chemicals are harsh to the skin and can cause permanent damage to the epidermal layer of the skin. Thus, a natural moisturizer automatically becomes a savior as it not only makes the skin softer but the natural ingredients provide nourishment from within.

What is the important role played by Tulip Extracts in skin care ?

Tulip Extracts form an important part of this deep pore cleansing moisturizer. Tulip Extracts moisturize and cleanse the skin. They help in opening up the clogged pores and remove the dead cells accumulated on the surface of the skin, without damaging the skin. Tulip is known for its skin whitening properties and being a gentle toner, Tulip helps in giving you a flawless, even-tone skin which is blemish-free. Tulip Extracts control the production of sebum which leads to bacterial activity on the skin, thereby leading to pimples and furthermore, blemishes and scars.

How are Green Almonds good for the skin ?

Almonds can be called the most useful nuts of all, be it for their nutritional value or be it for various other uses they come in handy for. Green Almonds are fresh and maintain a cool sheen over the surface of the skin. By playing a great role of balancing the pH of the skin, Green Almond Extracts facilitate the prevention of pimples, acne, irritations and allergies. The oil in Green Almonds seeps in the skin surface to make it more supple and soft to touch. They provide nourishment and act as a moisture blanket on the skin surface and also as a shield, protect the skin from harmful UV rays and other external factors which might prove to be disastrous for the skin."

Cleanse Skin Thoroughly. Apply All Over The Face, Arms And Neck In The Morning And At Night. Makes A Perfect Make-Up Base.
Country of Origin: India
Manufacturer & Packer: Vaadi Herbals Pvt. Ltd.
Address: A-40, Jhilmil Industrial Area, Shahdara, East Delhi, Delhi - 110095.