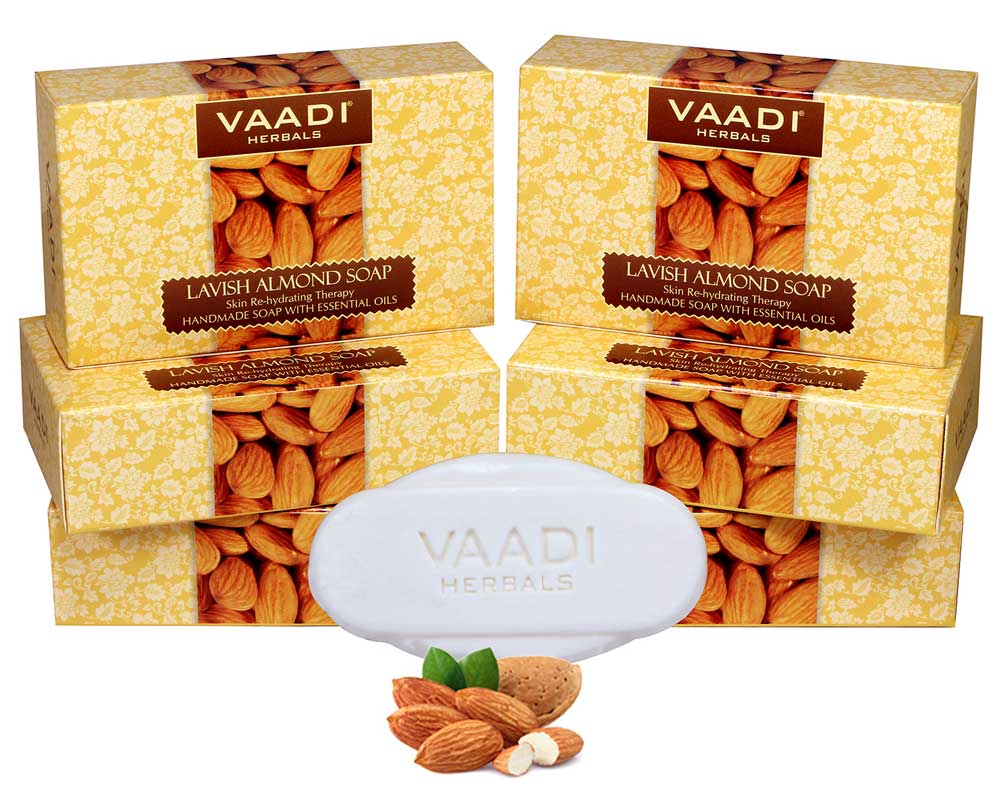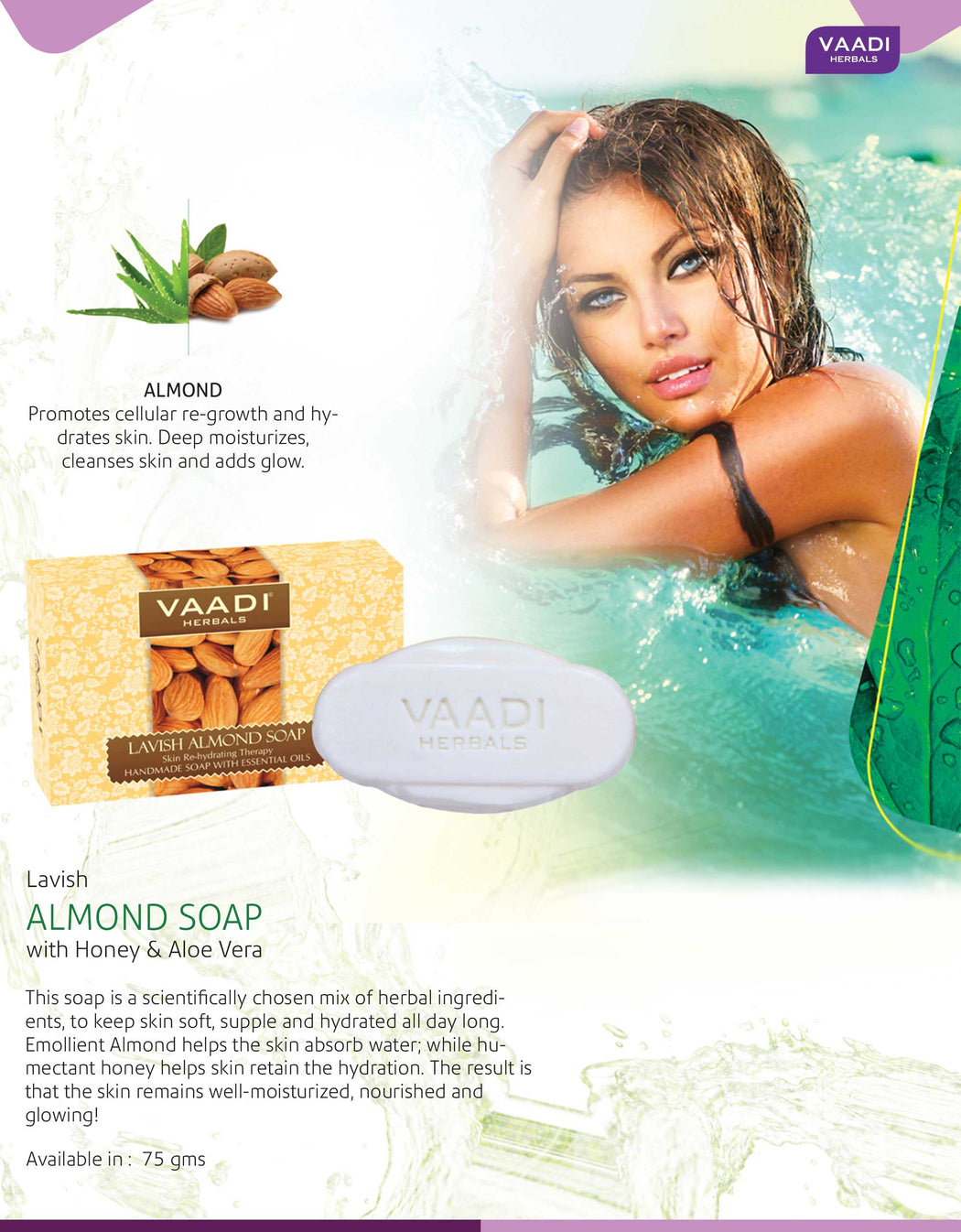 Pack of 6 Lavish Almond Soap (75 gms x 6)
M.R.P. incl. of all taxes.
This soap is a scientifically chosen mix of herbal ingredients, to keep your skin soft, supple & hydrated. Emollient Almond helps the skin absorb water; while humectant honey helps skin retain the hydration. The skin is well-moisturized, soothed and glowing!

Ingredients : Almond Oil (Prunus Dulcis), Organic Honey (Mel Extract), Coconut Oil Derivative (Cocos Nucifera), Aloe Vera Gel (Aloe Barbadensis), DM Water (Aqua)

Why is an oil-based soap better than the ordinary soap ?

Whenever skin care is discussed, experts never fail to talk of essential oils. Their presence is a per-requisite for skin-care. A good soap is the one that makes skin softer and nourish it with the necessary oils. But somehow, the ordinary soaps fail to do so. Instead, the chemicals in them make the skin harsh and lifeless by robbing off the oils. However, if a natural soap consists of ingredients like Honey, Aloe Vera extract as well as Pure Almond Oil, the soap is superior in innumerable ways. This trio is indeed reliable because it not only would make the skin softer, healthier, but also prevent dry patches and fade away the skin eruptions like Acne and rashes.

How does Almond Oil nourish the Skin ?

Sweet almonds' dry kernel yields almond oil. A light-weighted oil, Almond Oil is: Natural Moisturizer: The best thing about this oil is that it suits all skin types. Pure Almond Oil Moisturizes the skin by relieving irritation and itchiness. It is a great lubricant that not only soothes the skin but also penetrates in the skin's layers making up for any kind of essential oil loss. Excellent Emollient: Almond Oil has essential nutrients in it which softens and soothes the skin. Also,it compensates for the skin's water loss by replacing it with moisture and nutrients. The oil not only protects the skin surface but makes it way smoother from within. The skin glows with life. Improves Skin Complexion: Almond Oil is rich in Vitamin E. It not only improves the skin complexion but the skin looks all the more young, healthier. Fine lines disappear and the skin-aging process slows down.

Why is blend of Honey & Aloe-Vera good for skin ?

An amalgamation of natural ingredients such as Honey & Aloe-Vera in a product is no less than a secret treasure for damaged skin. Both of these put together form the best combination for a crystal-clear skin from outside which is as healthy from the inside. How honey helps in bringing out a radiant skin? By the process of regurgitation, bees make honey out of nectar. This honey then collected and used for a variety of purposes. Honey works wonders for the skin as the following: Treats Acne and Pimples: Honey is an ideal cleansing agent as it absorbs the trapped impurities within the skin surface and pores making it bacteria free. Honey, thus, is helpful in treating of Acne, break-outs and skin irritation. Also, Honey helps in lightening blemishes and scars. Rejuvenates and Refreshes the depleted skin: The damage on skin due to UV rays is one of the major cause that skin may become dull, dry and tanned. The skin starts to age before time. Honey is an essential ingredient which rejuvenates such a skin, repairs the sun damaged skin, making it soft & supple. It reduces wrinkles remarkably.

How does Aloe Vera make the skin flawless and healthy ?

Aloe Vera Gel is extracted from the medicinal Aloe Vera plant's leaves by process of squeezing. This is extremely useful in a number of ways. For the Skin, Aloe Vera is no less than a medical factory having cure for almost every skin problem possible. Aloe Vera has the following benefits: High Level of Healing Agents: Aloe Vera cures chapped and dry skin by providing it essential moisture and cooling it from within while healing it. Aloe Vera removes the dead skin cells which get accumulated on the skin, thereby making the skin dull and prone to Acne and irritation. Best Natural Skin Moisturizer: It's moisturizing property is commendable because after curing the pimple and acne prone skin, it also moisturizes it, making it soft and look healthy. Aloe Vera helps in maintaining the oil balance of the skin."

Take Soap And Lather In The Hands. Apply The Lather To The Entire Body, Gently Massage And Enjoy The Pure Delight Of Our Herbal
Country of Origin: India
Manufacturer & Packer: Vaadi Herbals Pvt. Ltd.
Address: A-40, Jhilmil Industrial Area, Shahdara, East Delhi, Delhi - 110095.