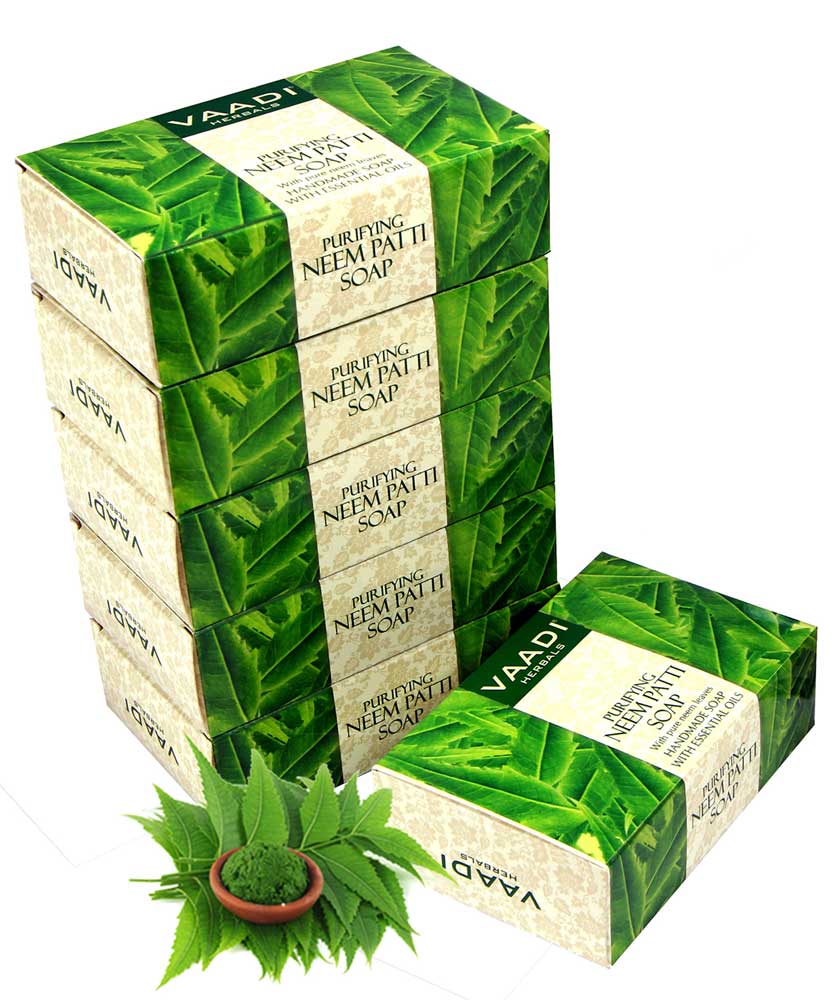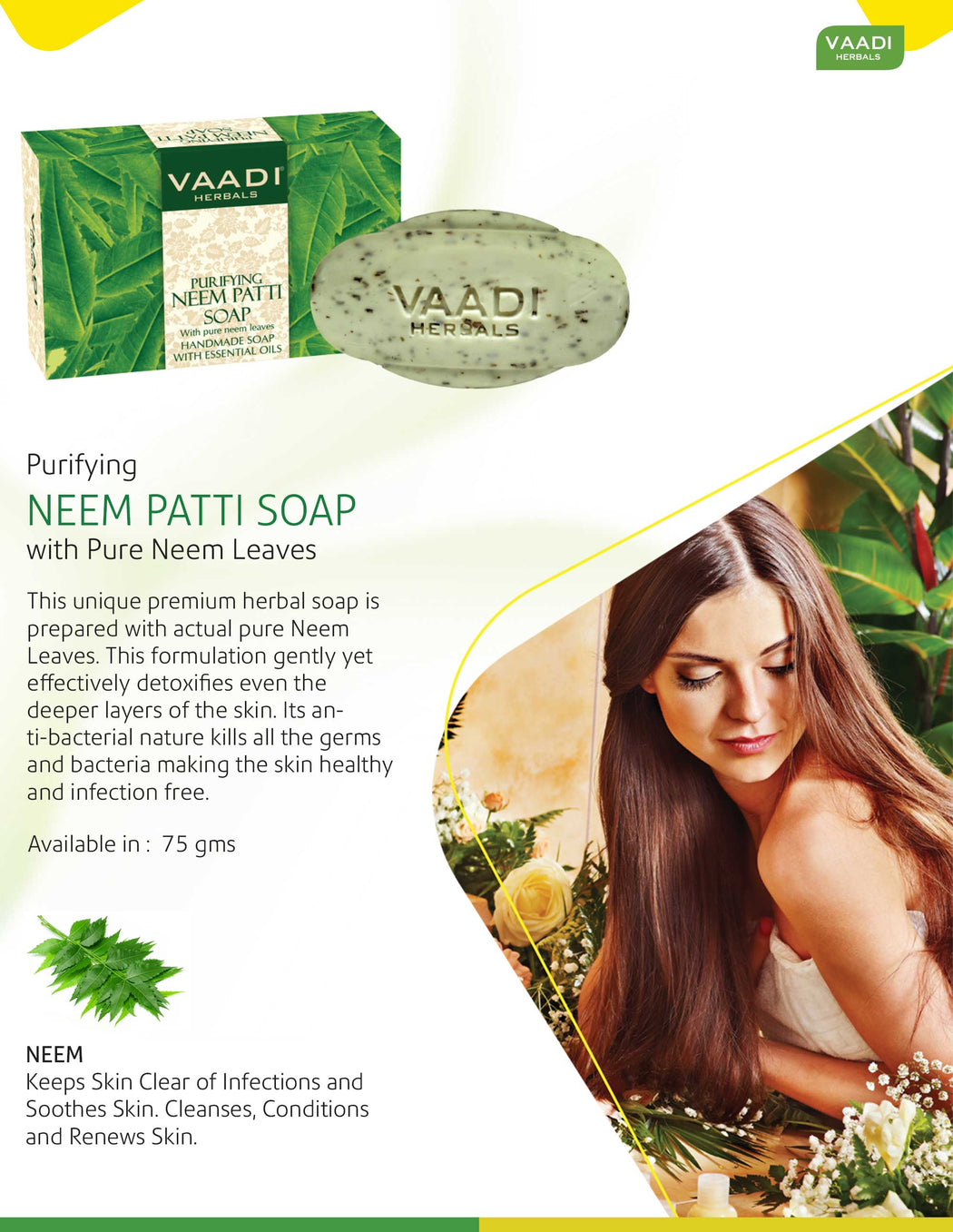 Pack of 6 Neem Patti Soap - Contains Pure Neem Leaves (75 gms x 6)
M.R.P. incl. of all taxes.
This unique premium herbal soap is prepared with pure Neem Leaves. This formulation gently, yet effectively detoxifies even the deeper layers of your skin. Its anti-bacterial nature kills all the germs and bacteria making your skin young and healthy!

Ingredients : Dry Neem Leaves (Azadirachta Indica), Neem Essential Oil ( Melia Azadirachta Leaf Extract), Tulsi Oil (Ocimum tenuiflorum), Aloe Vera Extract (Aloe Barbadensis), Honey (Mel Extract), Rose Water (Rosa Centifolia), Coconut Oil Derivative (Cocos Nucifera), Vegetable Oils, DM Water (Aqua)

Neem Leaves: No less than a miracle for The Skin

A skin product containing Neem can never be underestimated. One solution to battle all the skin odds is Neem. Azadirachta indica or Neem tree is found in India and many parts of Southeast Asia. Neem is an evergreen tree and is often called the 'pharmacy of villages' in praise of its medicinal properties. Be it a pimple or a disease as severe as chicken pox, Neem cures all. A soap enriched with the goodness of Neem leaves helps in making the skin flawless and beautiful, day after day.

BENEFIT of Neem leaves:

Natural Healing Properties: Neem Leaves have excellent healing properties when it comes to skin disorders. It's excellent anti-inflammatory and anti-bacterial property cures the redness and itchiness caused on skin by Acne or Pimples. Scars and blemishes fade away as Neem makes the skin visibly clearer and prevents further breakouts. Moisturizing Properties: Neem Leaves are rich in Vitamin-E, fatty acids & emollients. All these nutrients combine to soothe cracked skin, moisturize it from within and revive the skin's natural elasticity, making it softer and supple. Prevents Premature Aging: Another major skin problem most commonly seen is pre-mature aging. Neem leaves have a special detoxifying properties which cleanse the skin from within, help in proper regulation of blood, thus preventing pre-mature aging in the best possible natural way. Wrinkles and fine lines fade away in no time.

Take Soap And Lather In The Hands. Apply The Lather To The Entire Body, Gently Massage And Enjoy The Pure Delight Of Our Herbal
Country of Origin: India
Manufacturer & Packer: Vaadi Herbals Pvt. Ltd.
Address: A-40, Jhilmil Industrial Area, Shahdara, East Delhi, Delhi - 110095.