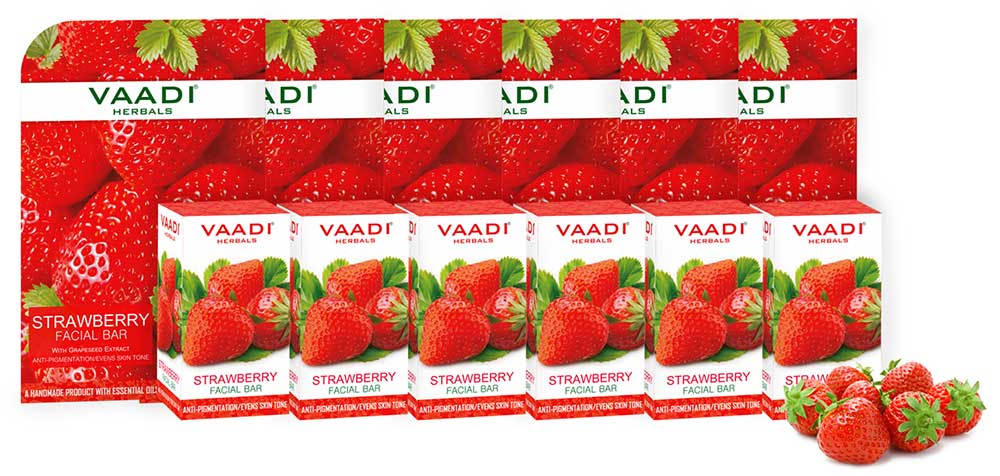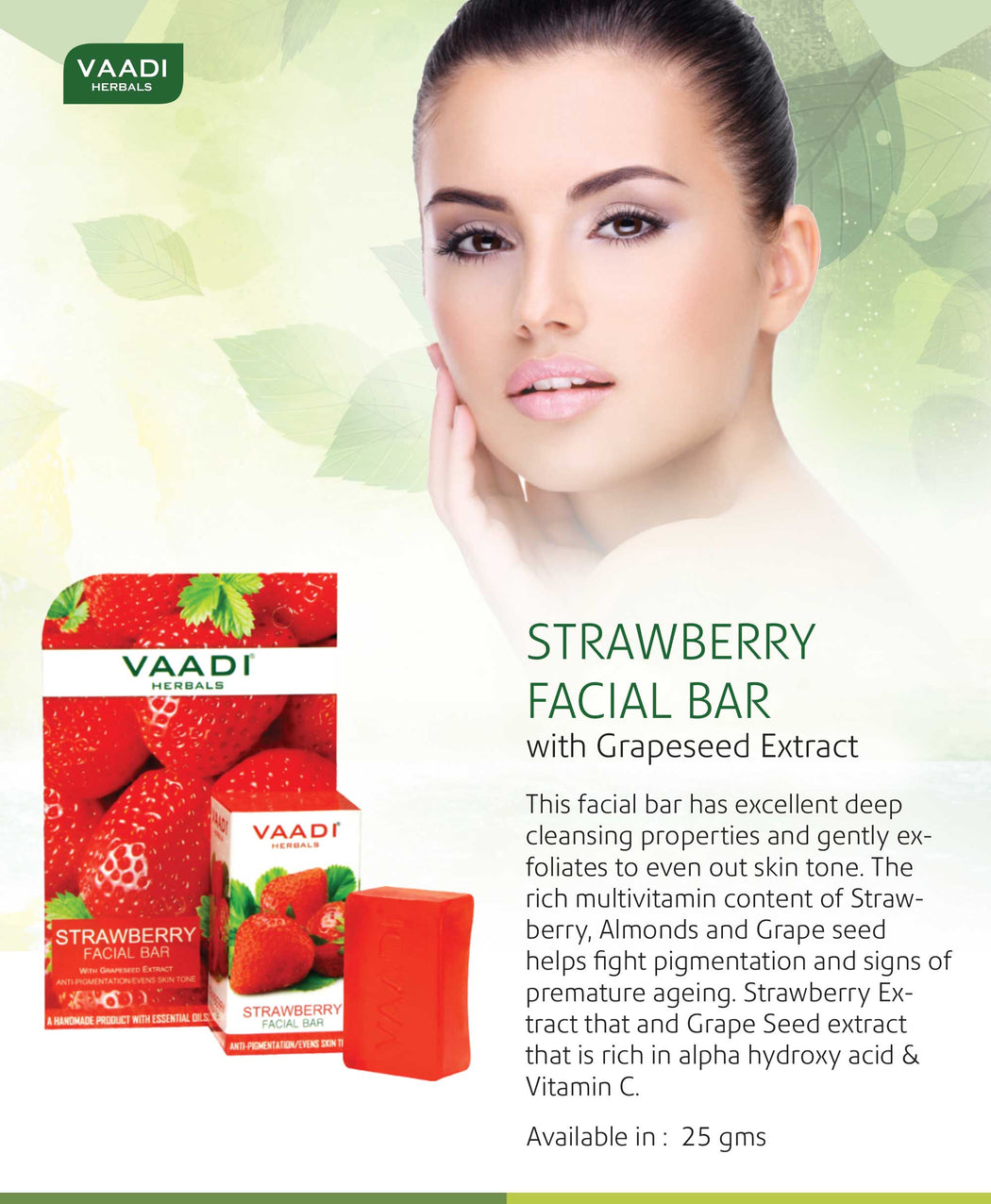 Pack of 6 Strawberry Facial Bars with Grapeseed Extract (25gms x 6)
M.R.P. incl. of all taxes.
This facial bar has excellent deep cleansing properties and gently exfoliates to even out skin tone. The rich multivitamin content of Strawberry, Almonds and Grape seed helps fight pigmentation and signs of premature ageing.

Ingredients : Strawberry Extract ( Fragaria Ananassa Fruit Extract), Steam Distilled Green Apple Extract ( Pyrus Malus Fruit Extract), Sweet Almond Oil (Prunus Amygdalus Amara), Grapeseed Extract (Vitis Vinifera Extract), Shea Butter Derivatives (Butyrospermum Parkii), Vitamin E ( Tocopheryl Acetate), Papaya Extract (Carica Papaya Fruit Extract), Vitamin A ( Retinol), DM Water (Aqua)

 

Every day run in pollution and sun robs the skin off the natural essential nutrients and adds dullness to the skin. With proper exfoliation and care, the skin's glow can be retained and maintained. Also, if the skin's pores are open, further nourishing can be done by application of packs and creams. Beautiful skin always attracts compliments and makes one feel confident.

Advantage of Handmade Facial bars over Chemically made Facial bars Facial bars or Soaps play a major role in skin care process. There are innumerable facial bars in the market, claiming to be best in every possible way. But a very few know that the facial bars are made of chemicals and there is just a very low percentage of the natural ingredients they claim.

A wrong facial bar will not only rob the skin of essential oils but also make it dull, patchy and prone to pimples as pores open up due to harsh chemicals. The handmade facial bars are the ones which are made with natural ingredients, chosen carefully to make the skin as beautiful as desired without harming it.

Strawberry:The beauty enhancer

Apart from the nutritional value that strawberries are known for, beauty is another department where strawberries excel. Rich in salicylic acid, Strawberries clear off the dead skin that gets accumulated on the epidermal layer resulting in dullness and skin-darkening. Also, a perfect cure for acne prone skin, Strawberry Extracts enriched facial bar clears off pimples within few days of use. By shrinking the pores and controlling the secretion of oil by the sebaceous glands, strawberries help in skin polishing and imparting a kissable glow to the skin. The exfoliation action of Strawberry Extracts is commendable as they unclog pores, provide deep pore cleansing and exfoliation without harming the skin. The particles are gentle and help in regulation of blood in the skin. Strawberries are rich in antioxidants which are known to be the perfect solution for premature aging. With frequent use of the Strawberry Facial Bar, a visible reduction will be observed in fine lines and wrinkles. Also, the skin is thoroughly moisturized diminishing dark dry patches. Strawberry Extracts are efficient skin whiteners because of their high Vitamin C and Zinc content. Pigmentation, blemishes, dark spots, blackheads and acne scars fade away in no time. The complexion significantly improves and the skin looks healthy and beautiful.

How does Almond Oil nourish the Skin?

Sweet almonds' dry kernel yields almond oil. A light-weighted oil, Almond Oil is: Natural Moisturizer: The best thing about this oil is that it suits all skin types. Pure Almond Oil Moisturizes the skin by relieving irritation and itchiness. It is a great lubricant that not only soothes the skin but also penetrates in the skin's layers making up for any kind of essential oil loss. Excellent Emollient: Almond Oil has essential nutrients in it which softens and soothes the skin. Also,it compensates for the skin's water loss by replacing it with moisture and nutrients. The oil not only protects the skin surface but makes it way smoother from within. The skin glows with life. Improves Skin Complexion: Almond Oil is rich in Vitamin E. It not only improves the skin complexion but the skin looks all the more young, healthier. Fine lines disappear and the skin-aging process slows down.

How do Grape Seed Extracts make skin flawless?

Rich in natural bioflavonoids, whole grape seeds yield extract which is a great anti-inflammatory agent. Also, grape seeds are excellent antioxidants. They help in: Prevent wrinkles & Premature aging: The extracts works on the skin in an effective way, it tightens the skin, reduces fine lines thereby preventing wrinkles. The skin looks younger and healthier. Keep skin moisturized: Grape Seed extracts are rich in anti-oxidants which purifies the skin from within, the skin looks visible clear and clean as the extracts effectively moisturize the skin. Also, a healthy moisturized skin has an improved elasticity and resistance from damaging environmental factors like pollution, dirt and the sun.

Apply Over Wet Face And Neck. Gently Work Up Rich Lather. Massage Gently In Circular Motion. Rinse Off And Pat Dry.
Country of Origin: India
Manufacturer & Packer: Vaadi Herbals Pvt. Ltd.
Address: A-40, Jhilmil Industrial Area, Shahdara, East Delhi, Delhi - 110095.