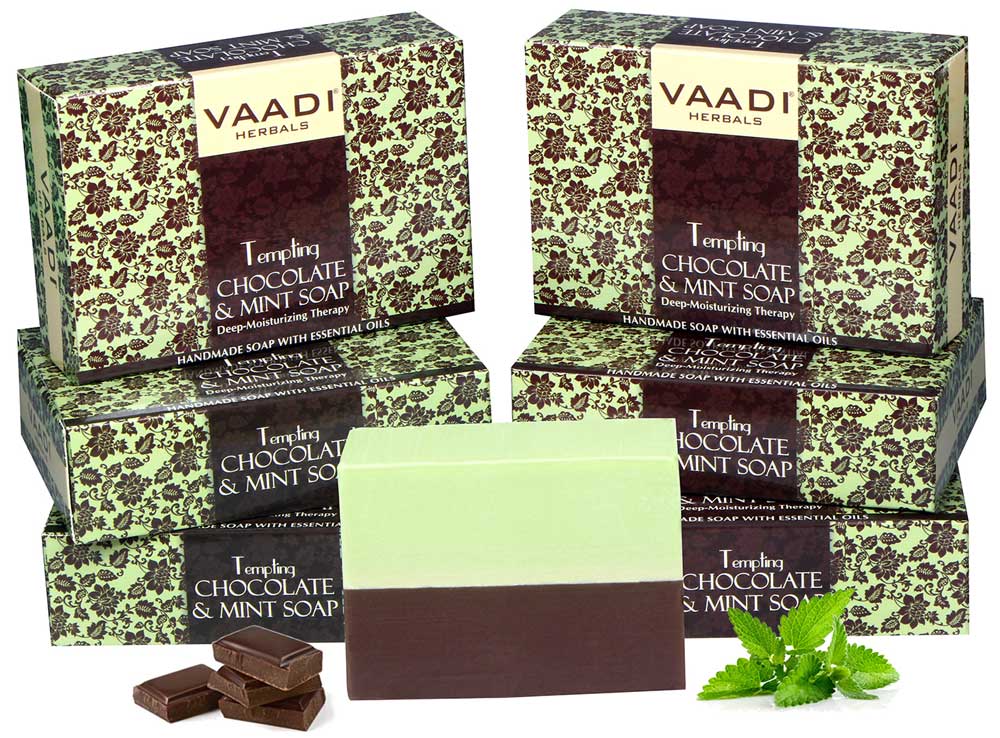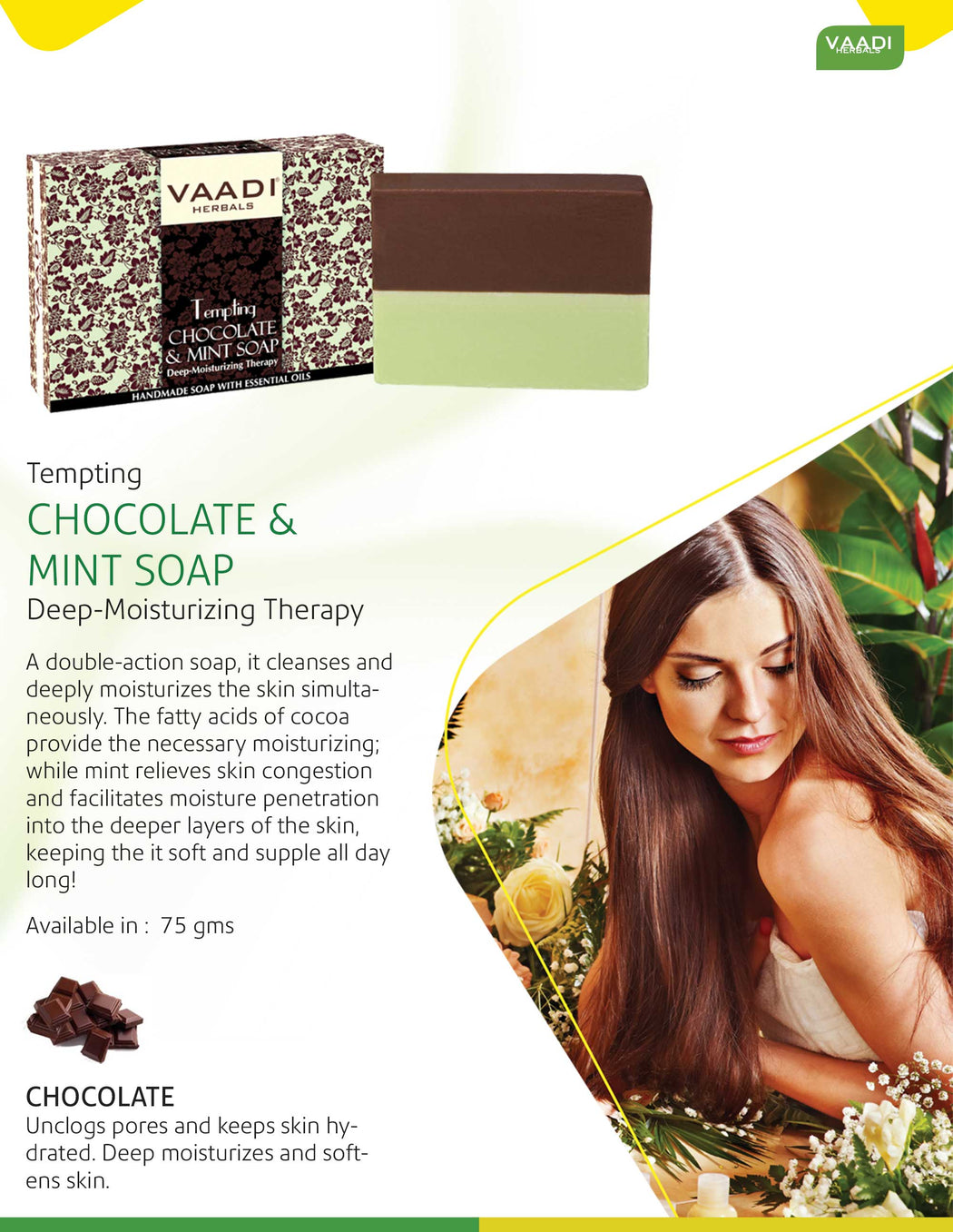 Pack of 6 Tempting Chocolate & Mint Soap - Deep Moisturising Therapy (75 gms x 6)
M.R.P. incl. of all taxes.
A double-action soap, it cleanses and deeply moisturizes your face simultaneously. The fatty acids of cocoa provide the necessary moisturizing; while mint relieves skin congestion and facilitates moisture penetration into the deeper layers of the skin; keeping your skin soft and supple.

Ingredients :Cocoa Butter (Theobroma Cacao), Steam Distilled Extract of Mint (Mentha Piperita Leaf), Olive Oil (Olea Europaea), Coconut Oil Derivative ( Cocos Nucifera Oil), Palm Kernel Oil ( Astrocaryum Vulgare Kernel Oil), Calendula Oil (Calendula Officinalis), DM Water (Aqua)

Why is choosing the right soap important ?

There are a plethora of fancily packed, heavenly fragrance promising soaps available in the market but only a few are capable of giving the skin the vital nutrients it needs to fight against the external stimuli. A regular and proper exfoliation is highly important to maintain the skin's glow. If not taken care of, the skin loses it's sheen and softness and you are just another face in the crowd with a normal looking lack-luster skin. Beautiful skin always attracts compliments and makes one feel confident. A very low percentage of chemically-made soaps that claim to be full of natural ingredients stand by what they say. The wrong soap can harm the skin to extent unimaginable. They strip away the natural moisture cover exposing the skin to all sort of hazard- acne, allergies, sun, dirt and pollutants. A handmade soap, on the other hand, ensures that the skin get its due vitamins, minerals and most importantly, moisture lock so as to be safe from damage.

How can chocolate transform your skin ?

Chocolate or Cocoa with its heavenly aroma calms the senses while its powerful ingredients work on the deep layer level to moisturize the skin. It cures inflammations, allergies, rashes, irritations as well as dry patches by deep nourishment. The skin is velvety soft and all the more confident to be flaunted without any make up. It radiates the inner beauty with regular use of chocolate. A thoroughly moisturized skin is far off from wrinkles, fine lines, blemishes and scars. The skin enjoys a renewed elasticity and a healthy glow. Preventing the skin from flaking and rejuvenates from within gifting a texture everyone would be envy of. Stretch marks and scars too fade away.

How does Mint pamper the skin ?

Listed as "Menthe" in many products, this cooling aromatic ingredient has more to it than its soothing effect and pleasant refreshing taste. Mint improves the skin's texture, tones it and deeps moisturizes the skin. Mint is an anti-pruritic agent, which means mint's juices calm itchy, irritated skin which is suffering from any kind of allergy, inflammation (from mosquito, bees or wasp bites) or just braving the extreme heat or cold conditions. Rich in Vitamin A, Mint cures rashes, wounds and it's high content of salicylic acid makes it a great natural astringent. It regulates the oil production by the sebaceous glands, preventing pimples, tough acne and excess oiliness or dryness. Mint helps in skin renewal as the salicylic acid helps get rid off the dead cells. It unclogs pores making it easier for the essential ingredients to get absorbed in the skin faster and work their magic to give you a fresh, supple and infection-free skin.

Take Soap And Lather In The Hands. Apply The Lather To The Entire Body, Gently Massage And Enjoy The Pure Delight Of Our Herbal
Country of Origin: India
Manufacturer & Packer: Vaadi Herbals Pvt. Ltd.
Address: A-40, Jhilmil Industrial Area, Shahdara, East Delhi, Delhi - 110095.