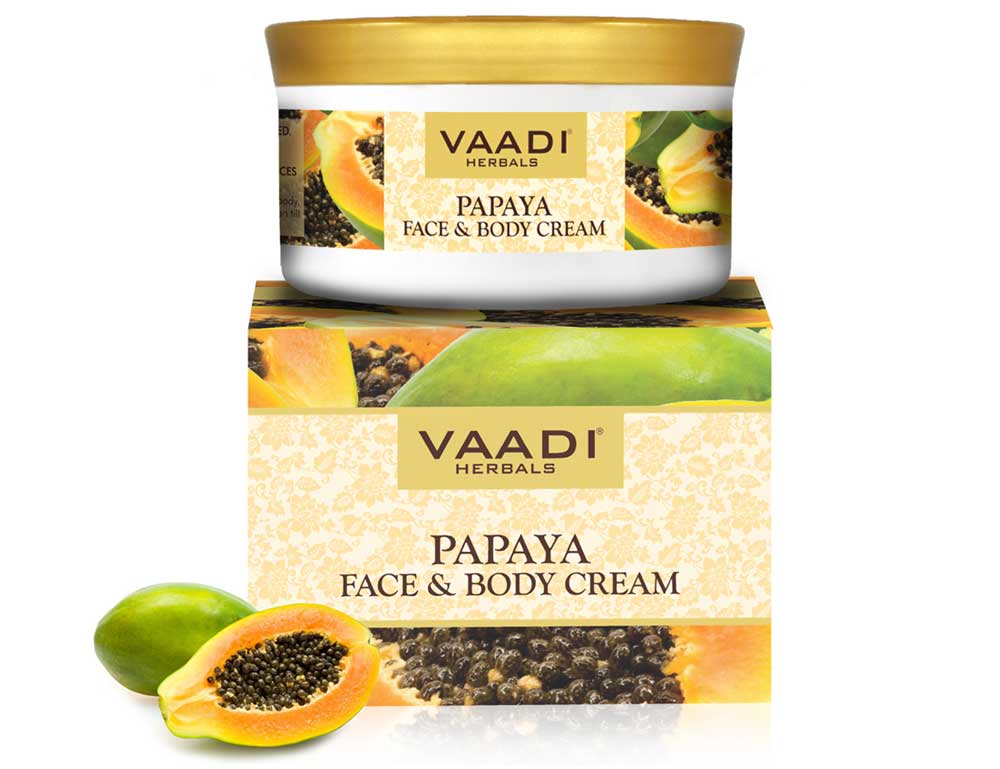 Papaya Face & Body Cream (150 gms)
M.R.P. incl. of all taxes.
Multi-vitamin rich, this cream breathes new life into your skin. Its rich anti-oxidant content fights aging; keeping skin supple and elastic. It fights wrinkling and promotes cell-growth. Its regular use is bound to keep your skin forever youthful!

Ingredients : Steam Distilled Papaya Extract (Carica Papaya Fruit Extract), Honey (Mel Extract), Steam Distilled Basil Extract ( Ocimum Basilicum Leaf Extract), Coconut Oil Derivatives ( Cocos Nucifera Oil), Jojoba Oil (Simmondsia Chinensis Seed Oil), Vitamin-E ( Tocopheryl Acetate), Extra Virgin Olive Oil ( Olea Europaea Fruit Oil), Shea Butter (Butyrospermum Parkii Butter), DM Water (Aqua)

What causes skin to become unhealthy and lose its glow ?

Healthy skin is itself a barrier against skin infections. Healthy skin is one, which is neither too oily nor too dry. The former blocks the pores and is responsible for skin infections like acne and blackheads; which finally result in ugly scars. As for dry skin, it loses elasticity and gets wrinkled earlier; and if cracked too, it is more susceptible to infections. Inadequate or improper hydration causes skin to lose its glow. Moreover, as we age, the basic health of our skin takes a toll. The outermost layer of the skin thins out; newer cells develop slowly; dead cells accumulate. This combined with the years of sun-exposure make our skin dull; patchy and pigmented. To add to this, poor blood circulation means poor supply of nutrients to the cells; also resulting in poor health of the skin.

How is Papaya useful in skin rejuvenation ?

Acting as a natural moisture cover, Papaya Extracts are great exfoliating agents as well. While keeping the suppleness of the skin intact, Papaya gently cleanses off dirt and impurities from the skin's surface and deep pore levels to yield a polished and perfect complexion. Hailed as the forerunner in skin whitening products, Papaya Extracts even tone the skin contour and whiten the skin from within. Papaya is an excellent tan remover. It cancels out the harmful effects of UV rays on the skin and imparts an envious glow on the skin.

What are the benefits of Honey ?

A natural humectant, honey an excellent moisture lock mechanism in itself. It effectively moisturizes the skin by retaining the water content. Honey detoxifies chemicals off the skin's cells. It is a potent anti-oxidant that soothes dry skin, cures patches and acts as a medicine to the skin. It keeps the skin supple which helps in preventing wrinkles, premature aging and lines. Healthy skin speaks for itself. Honey helps in bringing out your inner beauty and protecting it from external factors. Honey is being used for skin care since a long time and it has always proved itself an amazing skin treatment in itself.

Why is Basil Extract added ?

Basil looks like a tiny herb but its benefits are sky rocketing. Detoxification is the most important function of Basil. It refreshes the skin from within, helps get rid of toxins and soothes senses with its hypnotizing aroma. Basil works from beneath the skin's epidermal layer and improves the skin tone and texture. With regular use, there is a visible difference and lines disappear in no time. Basil prevents blackheads and their recurrence. It has a very powerful antibacterial action which makes it an excellent natural cleanser. Basil is anti inflammatory. It cures redness, allergies and any free radical damage due to presence of anti oxidants. Give your skin the beauty herb benefit.

How does Jojoba Oil keep skin soft ?

Found in Southern California, South Arizona and North West Mexico, Wax Ester or commonly known as Jojoba Oil is a magic ingredient when it comes to skin care. Our skin's sebaceous glands release oil which keeps the skin's moisture balance intact. This oil is stripped off by weather changes, harsh chemicals, pollution and other biological reasons. Jojoba Oil's texture is the most comparable with the skin's oil. This makes it easy to absorb in the skin's layers locking the moisture in. By regulating the oil balance, Jojoba Oil cures dry patches, flakiness and makes skin soft, supple and healthy. The skin glows with health. Although it's an oil, it does not make skin greasy as it instantly gets absorbs and catalyzes the process of nutrient usage all through the skin's layers. Anti Oxidants in Jojoba Oil keep the external factors at bay.

Apply Vaadi Papaya Face And Body Cream All Over The Face And Body. Gently Massage In Outward Circular Motion Till Totally Absorbed.
Country of Origin: India
Manufacturer & Packer: Vaadi Herbals Pvt. Ltd.
Address: A-40, Jhilmil Industrial Area, Shahdara, East Delhi, Delhi - 110095.