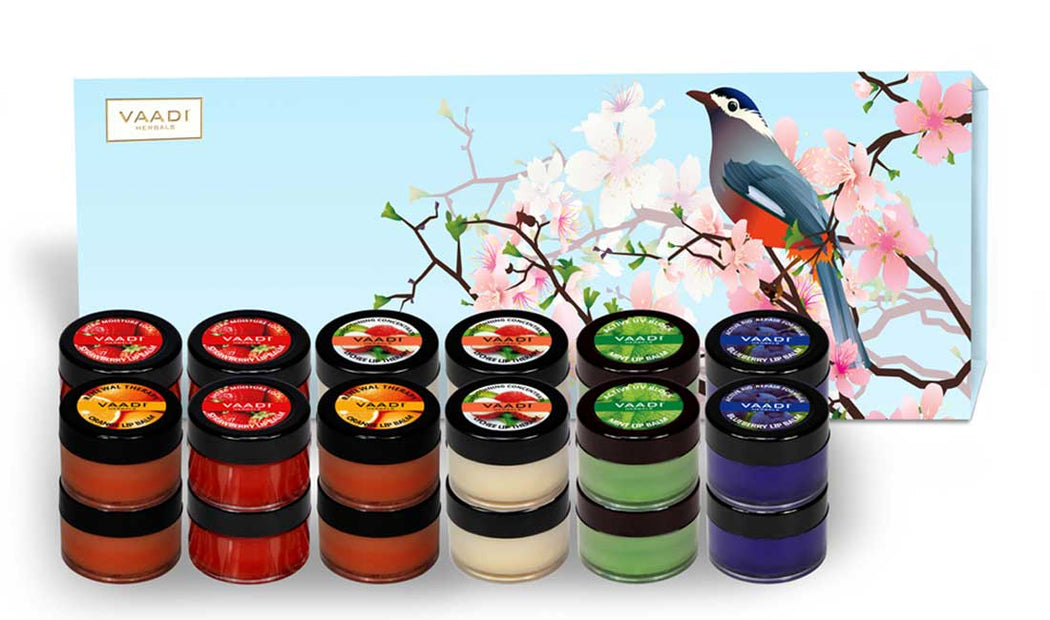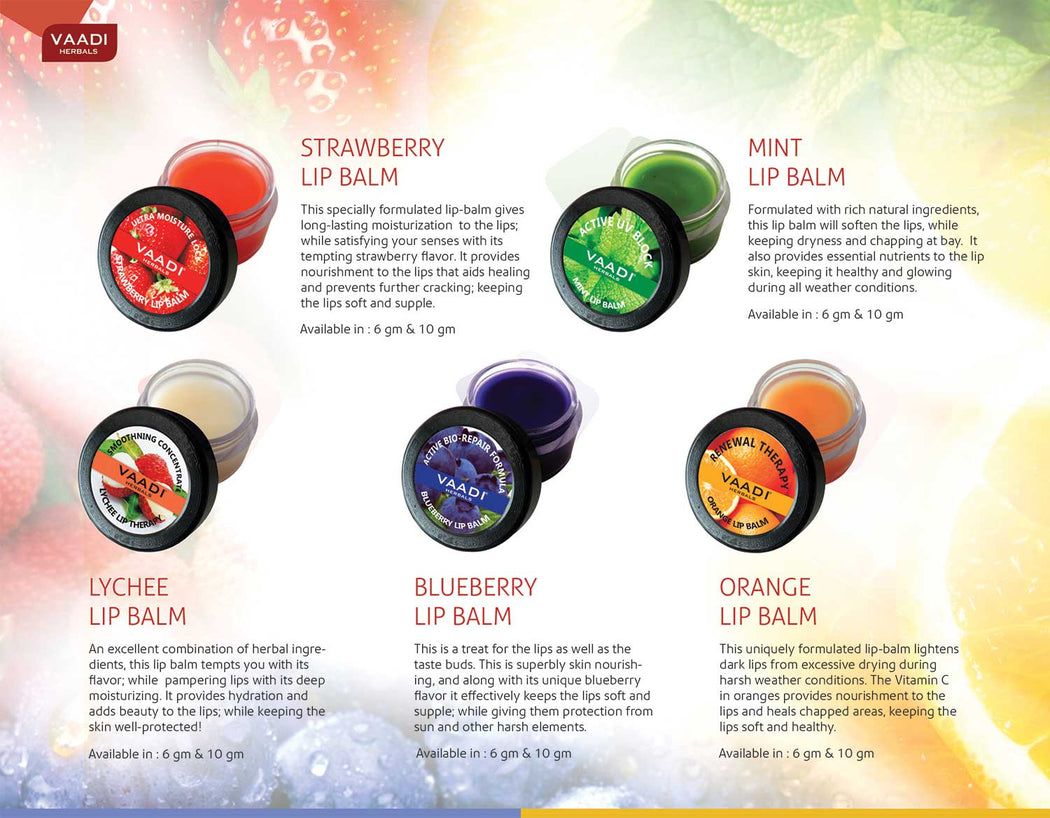 Premium 24 Lip Balm Gift Box (10 gms x 24)
Rs. 2,112
Rs. 2,006
5 % off
M.R.P. incl. of all taxes.
An excellent combination of herbal ingredients, this combination of five lip balms tempt you with its flavor and fragrance; while pampering your lips with its deep moisturizing property. It gives health and beauty to the lips; while keeping the skin well-protected from harsh weather conditions.

Ingredients : Jojoba Oil (Simmondsia Chinensis Seed Oil), Honey (Mel Extract), Soya Oil (Glycine Soja), Steam Distilled Blueberry Extract (Vaccinium Angustifolium), Organic Beeswax (Beeswax), Olive Oil (Olea Europaea), Wheatgerm Oil (Triticum Vulgare), Almond Oil (Prunus Amygdalus Dulcis Oil), Honey (Mel Extract), Vitamin E ( Tocopheryl Acetate), Soya Oil (Glycine Soja), Steam Distilled Strawberry Extract (Fragaria Vesca Fruit Extract), Strawberry Essential Oil (Fragaria Vesca Fruit Oil), Orange Seed Oil (Citrus Aurantium Dulcis), Honey (Mel Extract), Vitamin E ( Tocopheryl Acetate), Soya Oil (Glycine Soja), Lychee Extract (Litchi Chinensis), Steam Distilled Mint Extract (Melissa Officinalis), Organic Beeswax (Beeswax)

Why do lips need special care ?

Biologically, lips do not have oil glands. Therefore, lips must be protected from the external damage which could be caused due to external factors like harsh sun,cold weather or extreme climatic conditions. Lip care is as essential as proper skin care because chapped or dry lips aren't a pleasing sight and show a low level of personal care and hygiene. Therefore, keeping a lip balm handy is a good way to keep feeding lips with all essential and required moisturizing elements.

Strawberry:

The cure to blistered, chapped lips Strawberry Extracts prove to be effective soothing agents for dry, chapped and blistered lips providing the necessary moisture and makes lips petal soft and kissable. Strawberry Extracts are rich in alpha-hydroxy acid which helps in clearing dead skin accumulated on the lips, revealing soft, rosy pink and beautiful lips. Also, strawberries are excellent lightening agents. They help in removing the tan and darkness from the lips yielding renewed and shiny lips. All this and the yummy taste of strawberries and fruity smell, this lip balm is a tempting treat for the lips.

What are the benefits of Orange Oil ?

Pure Orange Oil has a high content of Vitamin A & C which not only prevent premature aging of lips' skin but also nourishes the lips from within making them soft. Orange Oil helps in fading away pigmentation and darkness which is often caused by dead skin accumulation. Orange Oil facilitates skin renewal beautifying lips, making them plum and pink. The fruity aroma of Orange makes the Lip balm tasty and lip-smacking tempting.

How is Lychee effective for lips ?

The evergreen Lychee (or Litchi) trees originated from the Fujian provinces of China and Guangdong. It is now grown in many parts of the world and is a common fruit in South Asia, Southeast Asia and Southern Africa. Lychee contains the one essential vitamin in abundance that the human body does not produce- Vitamin C. Lychee is highly rich in Vitamin C, Selenium, Potassium, Calcium and Vitamin B complex. Vitamin C keeps the lips safe from external factors such as pollution, extreme weather conditions, allergy, dryness and bleeding and makes the lips softer. The most important ingredient found in Lychee is Oligonol. This contains anti-influenza action and several important anti oxidants. Oligonol regulates the blood circulation and acts as a shield against the sun's harmful UVA rays thereby protecting lips from tanning. Pigmentation, spots and any kind of abnormalities are removed with a regular use of Lychee on the lips.

How does Mint work to give you healthy lips ?

Beyond its refreshing aroma which soothes the senses and a pleasant taste that makes you want to apply it as often as you can, Mint has more surprises to throw in. This aromatic ingredient is anti-pruritic in nature. It can calm the skin and heal it in the process while you can sit and enjoy the perfect perfume and cool effect. It is as quick as that. Rich in Vitamin A and salicylic acid, mint reduces excess oil by regulating it wherever most necessary and strengthens the lip tissue making it less prone to breakage, dryness and the unpleasant chapped look we hate. Mint, acting like a soothing scrub, clears up the dead cells that gather around the lips making them dark. It helps in skin renewal and feeds essential nutrients to the lips making them healthier, pink and have a shine about their own that no gloss can compare with. Any kind of inflammations, be it wasps, bees or mosquitoes, Mint cures in no time.

What is the importance of Blueberry Extracts ?

Blueberries are high antioxidant and phytochemical carriers. These anti oxidants seep in the skin tissue and provide a shield against free radicals by neutralizing them. These free radicals cause a lot of damage to the tissues if not targeted. Blueberries fight early signs of aging and keep lips young, pink and supple. The vitamin C in blueberries helps in strengthening the blood vessels. Weak blood vessels are prone to damage and breakage. These make the lips sensitive and a perfect target for numerous allergies and discoloration. Vitamin C works at the capillary level and provides strength to the vessels beneath the skin surface.

Clean Lip Gently And Use Your Fingers To Apply The Lip Balm To Your Lips.
Country of Origin: India
Manufacturer & Packer: Vaadi Herbals Pvt. Ltd.
Address: A-40, Jhilmil Industrial Area, Shahdara, East Delhi, Delhi - 110095.