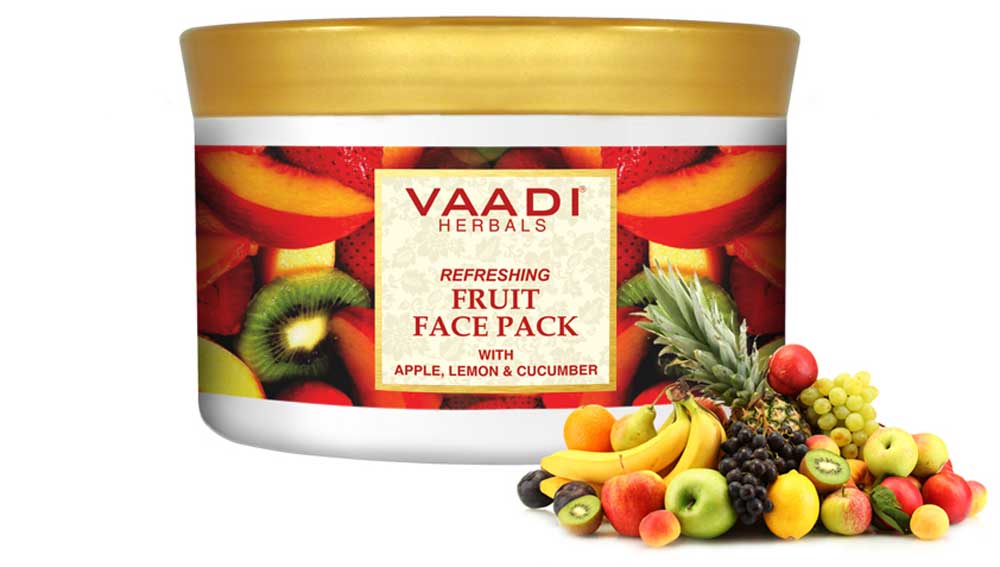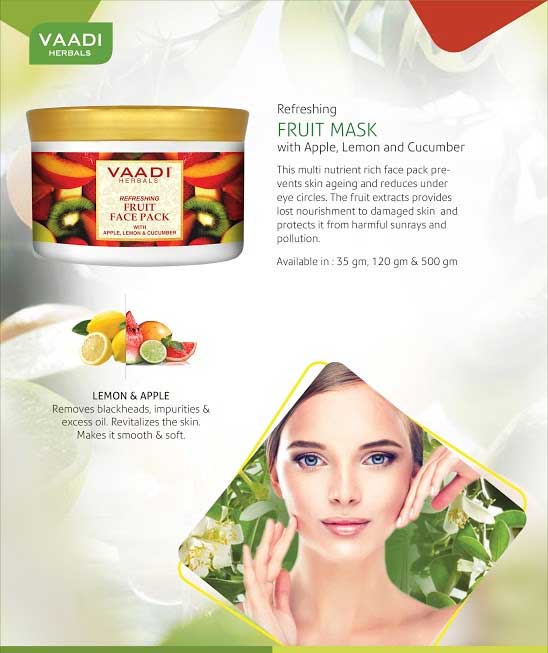 Refreshing Fruit Face Pack With Apple Lemon & Cucumber (600 gms)
M.R.P. incl. of all taxes.
Rich in essential minerals, this pack softens, soothes &smoothes the skin. Constituent fruit extracts feed nourishing vitamins to the skin, which keeps skin healthy and glowing. This pack has been specially formulated to lighten the complexion as well as dark circles; and help reduce acne and black heads.

Ingredients : Apple Extract, Cucumber Extract, Lemon Extract, Papaya Extract, Tomato Extract, Vitamin E

What is ageing and what are its causes ?

UV rays and pollution harm our skin since we are born; causing tanning/sun burn, acne, irritation etc. As we grow older, the health of our skin visibly deteriorates too. However, this is not because the sun and pollution become more effective. Rather our skin loses the ability to repair the damage so done. This is because our cells renew at a slower pace. Free radicals in our body further damage the cells, making the signs of aging even more prominent. The skin thus requires even more nourishment and care with every passing year; to help it repair the damage; as well as prevent any further damage.

How does Lemon fight against ageing ?

Lemons are abundant in Vitamin C; which is a mild bleaching agent. It not only helps lighten the overall complexion of the skin; but also reduces the appearance of sun-burns, age spots, acne scars and other blemishes. Being an anti-oxidant, Vitamin C also grants lemon anti-aging properties. Vitamin C is acidic in nature (citric acid); thus it renders lemon astringent properties as well. Lemon thus helps in maintaining the pH level; reduction of oil; removal of dead skin cells; as well as cleansing of pores. Combined with its anti-bacterial property, makes lemon very effective against treatment and prevention of acne and blackheads.

What makes Tomato a good anti ageing agent ?

Anti-oxidants Vitamins A, C and E as well as lycopene rejuvenate and brighten dull skin; while delaying the signs of aging. It exhibits astringent and cooling properties. It removes excess oil from the skin's surface; as well as unclogs pores off impurities and tightens enlarged ones. This makes it extremely effective in treating acne and blackheads. Tomato's soothing effect also helps reduce redness, itching and inflammation; while calming sun-burns and rashes. It is also an effective remedy for treatment of skin discoloration.

How is beneficial against ageing ?

Cucumber or Cucumis sativus is multi-beneficial for skin and skin-types. It is rich in Vitamin E, natural fats and water. Vitamin E is a known anti-oxidant; fighting free radicals, which are responsible for skin-aging. The latter two hydrate and thus soften dry skin. It also works wonders on oily skin, and helps fight acne and blackhead problems. Cucumber is even known to lighten the skin complexion, along with lightening face blemishes and skin spots. However, the most popular use of cucumber is that for the eyes. It reduces swelling around the eyes, reducing the ugly dark circles.

What are the advantages of using Vitamins A and E against ageing ?

Both Vitamins A and E are potent anti-oxidants. They hunt and neutralize free radicals in our body, which cause our skin to age. Furthermore, they stimulate the growth of new, healthy cells; as well as help in the production of collagen, a necessary skin protein. These activities help in delaying premature aging of the skin, including wrinkles and sagging. They also help in lessening the depth of or fading of wrinkles. Vitamins A and E also help in treating photo-aging, i.e. aging/skin-damage induced by exposure to UV rays. Vitamin E protects skin from further UV damage as well. It even helps in reducing blemishes, dark spots and acne marks. And Vitamin A is known to be effective against skin oiliness, acne, blackheads and pigmentation disorders.

What role do Apples play against skin's ageing process ?

Apples are rich in anti-oxidants, including Vitamin A, B and C. They help fight prevent signs of premature ageing; including the onset of wrinkles. They are also effective as healing agents for cracked skin and sun-burn, as they stimulate production of new cells; while reducing inflammation and itching. Vitamin A renders apples properties of an exfoliant. They help clear the skin of dirt and impurities; product residues as well as dead cells. Owing to the presence of Vitamin C, apples even tighten the skin and help in balancing the skin's pH level. All this helps smooth the complexion, as well as fight and prevent acne. Also the mild bleaching property of apples helps lighten the skin tone.

What are the anti ageing benefits of Papaya ?

Even papaya is an anti-oxidant rich fruit. It helps maintain skin's elasticity and delays the appearance of wrinkles. This is owed to the presence of Vitamins A, C and E in it. However, the main benefits of papaya are accredited to the presence of an enzyme, namely papain. This enzyme helps in removal of dead skin cells; while it cleans and tightens the skin pores. These activities make papaya very effective in the treatment, as well as prevention, of blackheads and acne. Also a skin whitening agent, papaya is very popular in lightening of sun-tan, blemishes, freckles as well as dark spots.

Apply A Generous Amount Of This Pack On Face And Neck, Avoiding Eyes. Relax Till Completely Dry. Rinse With Fresh Water. Follow With Vaadi Herbals Sun Shield Sunscreen Cream.
Country of Origin: India
Manufacturer & Packer: Vaadi Herbals Pvt. Ltd.
Address: A-40, Jhilmil Industrial Area, Shahdara, East Delhi, Delhi - 110095.