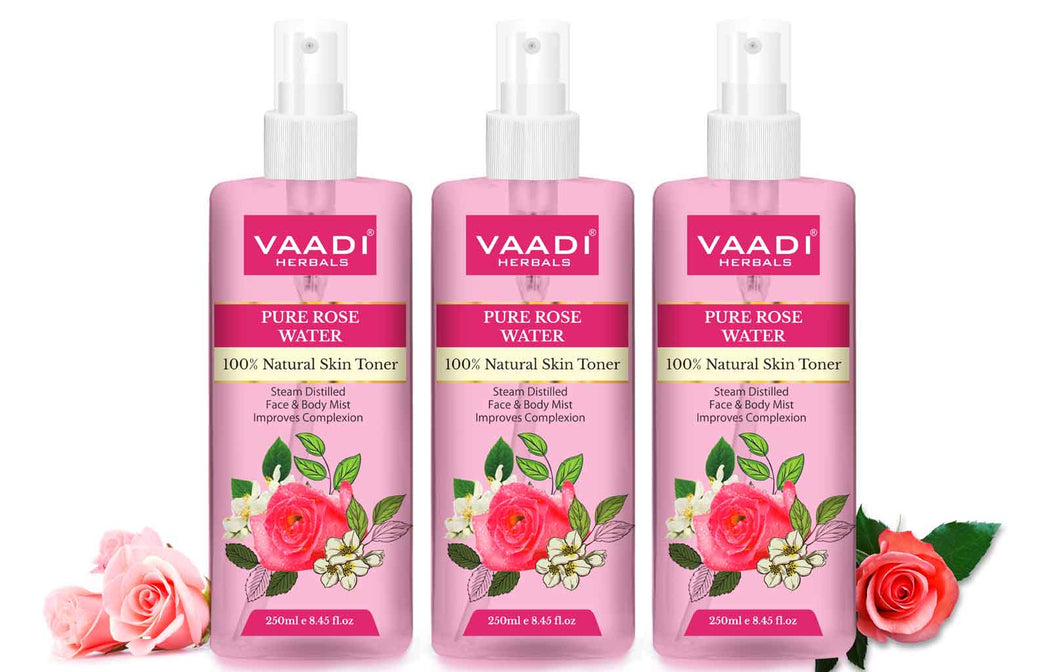 Rose Water - 100% Natural & Pure (250 ml x 3)
M.R.P. incl. of all taxes.
This natural and deeply cleansing Rose Mist or Water revives and hydrates skin without any stickiness. It calms tired skin and reduces redness, itchiness and inflammation caused due to over exposure to sun and pollution. It also repairs skin damage due to daily application of makeup and removes all dirt and impurities.

Ingredients - Steam distilled extract of Pure English Rose Petals (Rose Canina), Aqua.

Rose water is an effective cleanser that leaves the skin feeling fresh, healthy and clean. The gentle fragrance leaves behind a trail of freshness and calms senses. This hydrating water helps maintain the natural moisture balance and the skin feels beautifully soft and conditioned.

Oil of Pink Rose, carefully extracted from Pink Rose petals, works great on the skin irrespective of the skin type. Even sun burnt skin finds relief with the inclusion of Rose oil. Rose extract is an amazing astringent that soothes the skin from within and provides a gentle, cooling effect. Regular scrubbing and cleansing robs the skin off its moisture. Rose Extracts helps in re-balancing the skin's natural moisture and imparts a glow from within.

Spray on face and body and evenly spread it all over or spray twice on cotton swab and swipe it across your face.
Country of Origin: India
Manufacturer & Packer: Vaadi Herbals Pvt. Ltd.
Address: A-40, Jhilmil Industrial Area, Shahdara, East Delhi, Delhi - 110095.