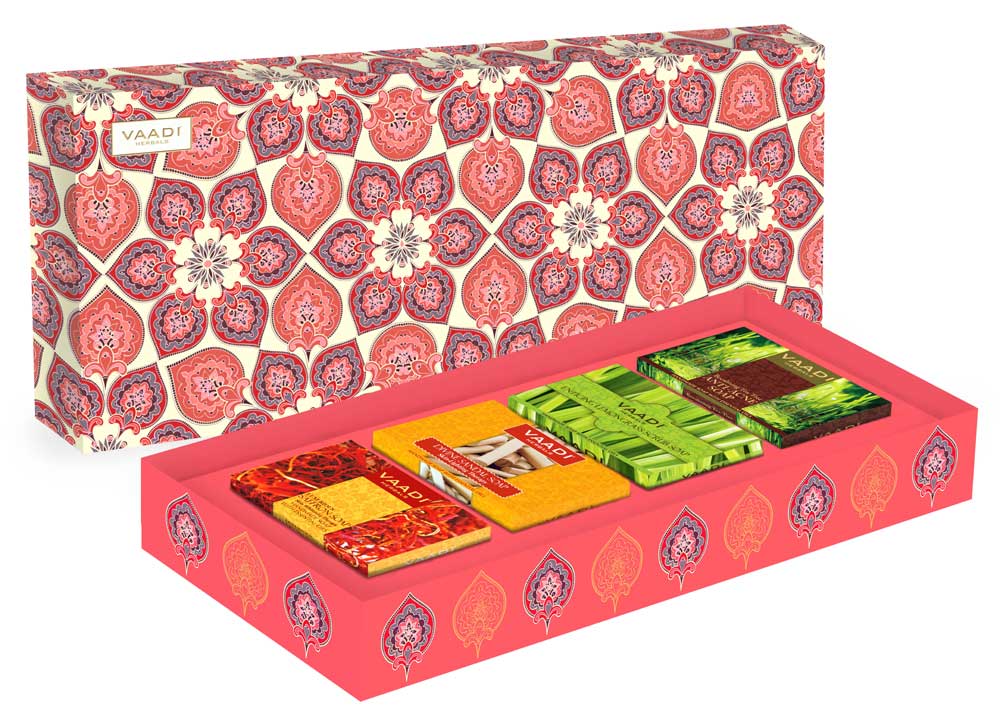 Royal Indian Herb Collection - 4 Premium Herbal Handmade Soap Gift Box (75 gms x 4)
M.R.P. incl. of all taxes.
Spread the magic and beauty of aroma with this refreshing gift pack of natural and handmade soaps, made with herbs, essential oils and fruit extracts. This collection of lusciously aromatic soaps from Vaadi Herbals is just perfect for a truly fresh, new start everyday!

Ingredients : Tea Tree Oil (Melaleuca Alternifolia), Clove Oil (Eugenia Caryophyllus), Olive Oil (Olea Europaea), Coconut Oil (Cocos Nucifera), Saffron Extract (Crocus Sativus), Coconut Oil Derivative (Cocos Nucifera), Goat Milk (Caprae Lac), Sandal Extract (Santalum Album), Turmeric Extract (Curcuma Longa), Olive Oil (Olea Europaea), Lemongrass Oil (Cymbopogon Schoenanthus), Charcoal Powder, Walnut Shell Powder (Juglans Regia), Pure Honey (Mel Extract), DM Water (Aqua)

What comprises of proper skin nourishment?

Glowing or radiant skin is a sign of healthy skin. The health of the skin is further dependent on proper nourishment; which includes proper cleansing, along with hydration and nutrient supply. Milder soaps cannot properly cleanse the skin. And harsher ones do rid the skin of impurities; but also steal away its moisture. But, neither cleansing nor moisturizing can be ignored. This is because proper cleansing betters the nutrient supply to the cells, while keeping skin free of infections and acne. Adequate nutrient supply helps skin repair faster, and stay healthier. As for hydration, it strengthens the cells, maintains skins elasticity, delays wrinkling. And a well hydrated skin is less prone to damage from external factors. Natural Soap v/s Chemical Soaps When we go to market to choose soap suitable for the skin, we may have an option of over thousand of variety of soaps. Fragrances play a very important role. No one prefers a soap with an unpleasant odor. But the chemical soaps available in the market at high prices falsely claim to be benefiting the skin. The chemical ingredients which are added to improve the skin prove to be a curse for the skin in long run.

Luxurious Saffron Soap (75 gms)

Enriched with multi-mineral-rich content of Saffron & goat Milk, this soap lightens and evens your skin tone, while cleansing away pore-deep impurities. It gently fades away pigmentation marks and blemishes; and grants you a fairer & flawless complexion!

 




Divine Sandal Soap (75 gms)

A time-tested combination, of Chandan, Kesar & Haldi; this soap is your route to a fair & flawless complexion. The three herbs work synergistically to lighten the complexion, and effectively fade away sun-tan and blemishes; granting you a fair, smooth & even skin tone.

 




Becalming Tea Tree Soap (75 gms)

With a high concentration of anti-microbial agent, terpinen-4-ol, tea tree oil makes this soap, extremely effective against acne. It rids the surface of dirt, germs & excess sebum. It even unclogs pores and relieves skin congestion; granting you freedom from acne worries!

 




Lemongrass Scrub Soap (75 gms)

A specially formulated soap to truly cleanse, detoxify and polish your skin. Anti-bacterial Lemongrass paired with activated Charcoal, draw impurities out of the skin; leaving it clean & healthy within. On the outside, the dead cells are scrubbed off; smoothing & adding glow!

Take Soap And Lather In The Hands. Apply The Lather To The Entire Body, Gently Massage And Enjoy The Pure Delight Of Our Herbal
Country of Origin: India
Manufacturer & Packer: Vaadi Herbals Pvt. Ltd.
Address: A-40, Jhilmil Industrial Area, Shahdara, East Delhi, Delhi - 110095.