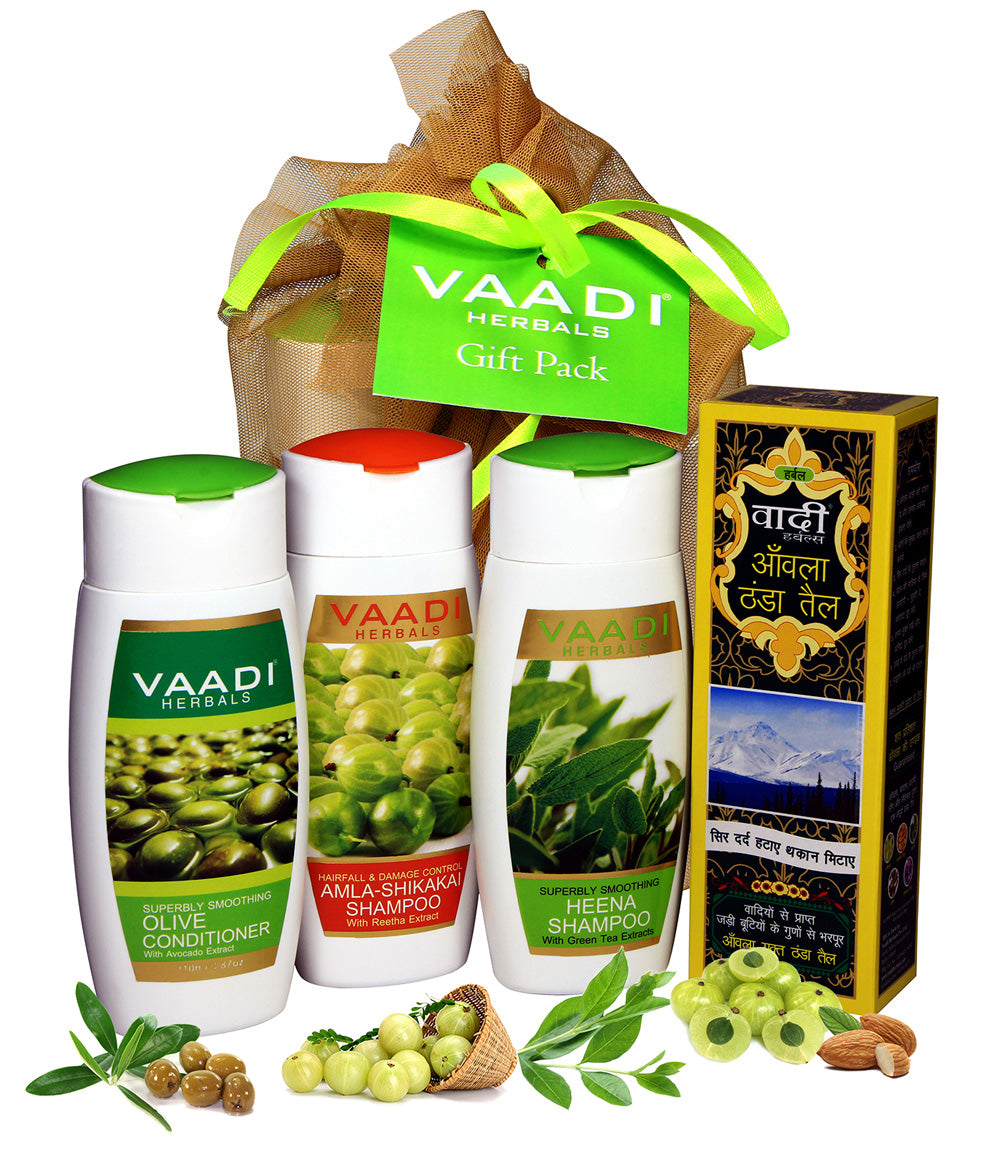 Shiny Hair Gift Pack (430 gms)
M.R.P. incl. of all taxes.
This Shiny Hair Gift Pack from Vaadi is bound to give you and your loved ones voluminous and shiny hair & protect your mane through all seasons.

Ingredients : Almond Oil (Prunus Amygdalus Dulcis Oil), Lavender Oil (Lavandula Officinalis Flower Oil), Clove Oil (Eugenia Caryophyllus Stem Oil), Hibiscus Extract (Hibiscus Rosa-Sinensis), Amla Extract (Emblica Officinalis Extract), Sat Pudina (Mentha spicata), Mustard Oil (Brassica Nigra Oil), Coconut Oil Derivatives (Cocos Nucifera Oil), Amla Extract (Phyllanthus Emblica), Shikakai Extract (Acacia Concinna), Reetha Extract (Soapnuts), Triphla Extract (Emblica Officinalis), Steam Distilled Heena Extract (Lawsonia inermis), Coconut Oil Derivative (Cocos Nucifera), Steam Distilled Extract of Olive (Olea Europaea), Pure Avocado Extract (Persea Gratissima), Coconut Oil Derivative (Cocos Nucifera), DM Water (Aqua)

Amla Cool Oil (100 ml)

This excellent mixture of numerous oils, namely Badaam Oil, Lavender Oil, Lavang Oil, Jatamanshi, Japakusum, Gulab Phool, Agar, Ratanjyot, Khas Khas, Bhringraj, Kapoor, Amla, Brahmi is an excellent head to toe massage oil. It calms join pains, headache, promotes hair growth, prevents graying and gives you beautiful skin and a toned body. 

Superbly Smoothing Heena Shampoo with Green Tea Extract (110 ml)

Keep your hair healthy, conditioned and naturally silky and shiny with the goodness of nature's best conditioner Heena and antioxidant rich Green Tea Extract. Together they form a powerful combination giving you the gift of beautiful hair from the first wash itself. Ideal for dry, damaged, untamed hair. 

Superbly Smoothing Olive Conditioner with Avocado Extract (110 ml)

A multi-vitamin complex, to add beauty and life to your hair; giving you silky smooth hair without letting it go limp. Emollient olives & humectant Avocados penetrate into the hair shaft, deeply hydrating the strands, without making them oily. This complex effectively controls frizz by sealing the cuticles and leaves you with smooth, tangle-free & lustrous hair. 

Amla Shikakai Shampoo – Hairfall & Damage Control (110 ml)

Are you facing drastic hair loss? Does your hair feel rough and tangled all the time? Are you stressed about the lack-luster texture of your hair? An expert remedy for hair-fall condition, this shampoo follows a triple-action plan– promoting healthy scalp, strengthening hair roots and deep-conditioning hair. Shikakai and Reetha keep the scalp free of infections. Amla, here, strengthens and stimulates hair follicles, thus controlling hair fall AND promoting hair growth.

Apply Vaadi Shampoo On Wet Scalp And Hair. Massage It Gently Into The Scalp. Rinse And Repeat If Required.For Best Results Use Vaadi Herbals Red Flower Nourishing Conditioner.
Country of Origin: India
Manufacturer & Packer: Vaadi Herbals Pvt. Ltd.
Address: A-40, Jhilmil Industrial Area, Shahdara, East Delhi, Delhi - 110095.