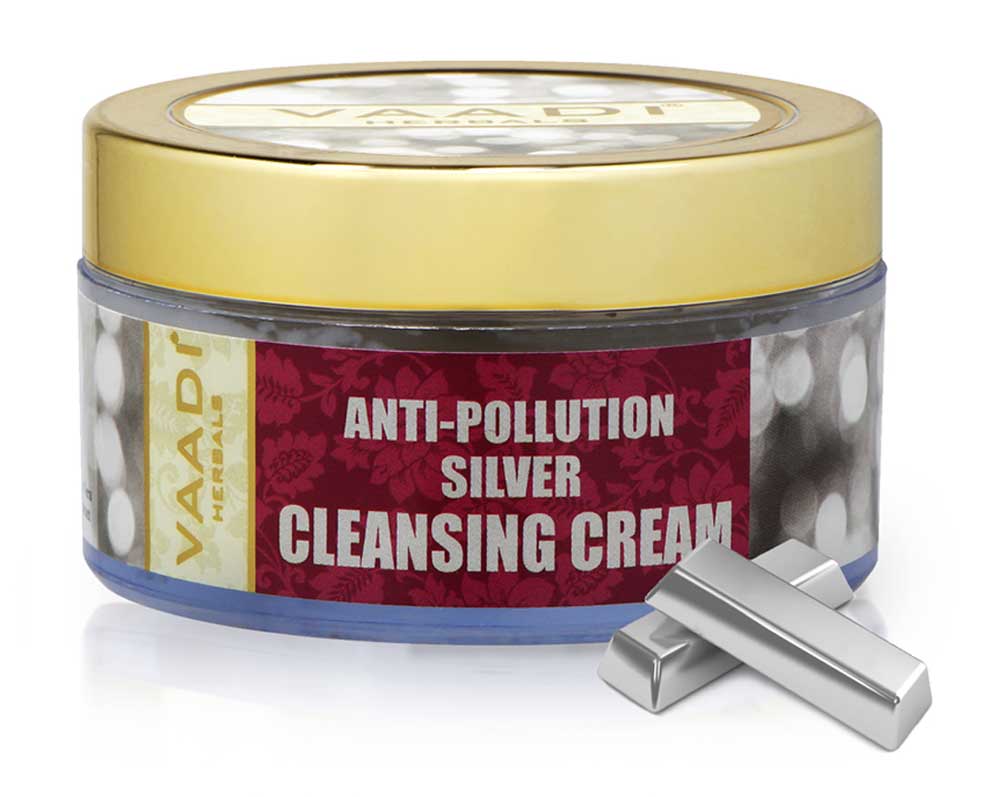 Silver Cleansing Cream - Pure Silver dust & Sandalwood Oil (50gms)
M.R.P. incl. of all taxes.
Pure silver dust & numerous herbal extracts cleanse away all the dirt & impurities from the skin's surface; while keeping your skin soft & supple.

Ingredients : Steam Distilled Almond Oil (Prunus Amygdalus Dulcis), Soyabean Oil (Glycine Soja Oil), Apricot Kernel Oil (Prunus Armeniaca), Mustard Oil (Brassica Nigra Oil), Vitamin A (Retinol), Jojoba Oil (Simmondsia Chinensis Seed Oil), Shea Butter (Butyrospermum Parkii), Vitamin E (Tocopheryl Acetate)

Why are cleansing and moisturizing important for skin-care ?

A glowing and smooth complexion is the sign/result of a healthy skin. And proper cleansing and moisturizing are the keys to the health of skin cells. Regular soaps can only cleanse away surface impurities; while ripping away the necessary moisture. Lack of moisture is one of the reasons that can lead to premature wrinkling; while also making the skin look rough feel irritated. And improper cleansing can neither prevent nor treat skin infections/problems; such as acne and blackheads. In fact, with age our skin's health already suffers at the hand of uncontrollable internal factors. Thus it becomes all the more important to take best possible external care, to keep it looking young and healthy.

What makes Pure Silver Dust good skin-cleansing agent ?

Silver is one of the important nutrients that are required for health and growth of new skin cells. Cellular renewal helps in faster healing of sunburns, rashes and wounds. Silver can even fight a number of skin infections, due to its anti-bacterial and anti-fungal properties. And it is effective even against acne. Even irritated and stressed out skin can be calmed by this soothing agent; owing to its cooling property as well as ability to nourish. This makes it suitable for use on even sensitive skin types. Silver dust is just powdered silver, very finely though; and is as beneficial as silver, as far as the aforementioned effects are concerned.

What is Aloe Vera Extract and how does it contribute to cleansing the skin ?

The extract or derivative of the Aloe vera plant helps keep skin supple, by moisturizing it just adequately; and improving its ability to hydrate itself; without adding to the oiliness. It works well against premature aging too, by neutralizing free radicals and promoting collagen and elastin formation; hence proving a great anti oxidant too. Its ability to fight acne and other skin infections make it an effective anti bacterial; while its anti inflammatory effect helps soothe dry skin. It also rejuvenates the skin by removing dead cells; reducing pigmentation; and allowing deeper penetration of nutrients into the skin's layers.

What is Sandalwood Oil, and how does it work as a good cleansing agent ?

Sandalwood Oil has been known to have moisturizing, astringent and anti septic properties. Extracted from Santalum album, it hydrates dry skin and makes it supple. When used for oily skin, it shrinks the pores to help control oiliness. It also tightens skin, thus reducing appearance of fine lines. It also has anti inflammatory properties, which make it useful in soothing irritations and inflammation of sensitive skins. As an anti septic, it keeps boils and pimples from getting infected further. It is also known to have lightening abilities when used on under eye circles or dark spots, acne marks, freckles or pigmentation.

What is Grape Seed Extract and how does it work as a skin cleanser ?

Grape seed extract, the popular and highly effective anti aging agent, is obtained from the seeds of whole grapes. Being a major source of flavonoids, polyphenols and Vitamin E, it is a well known anti oxidant. Procyanidin, a phenol that is several times a more effective anti oxidant than Vitamin E , is sufficiently present in this extract. Keeping new free radicals from being formed, and neutralizing the existing ones, it works powerfully against premature aging. This phenol additionally promotes healing of wounds and reversal of sun damage to skin. With its ability to attach itself to the collagen in the skin, procyanidin betters the skin's elastic properties and the general health of cells."

Apply A Generous Layer On The Face And Neck. Massage Gently In Circular Motions For 5-7 Minutes. Rinse Thoroughly Or Remove With Moist Cotton.
Country of Origin: India
Manufacturer & Packer: Vaadi Herbals Pvt. Ltd.
Address: A-40, Jhilmil Industrial Area, Shahdara, East Delhi, Delhi - 110095.