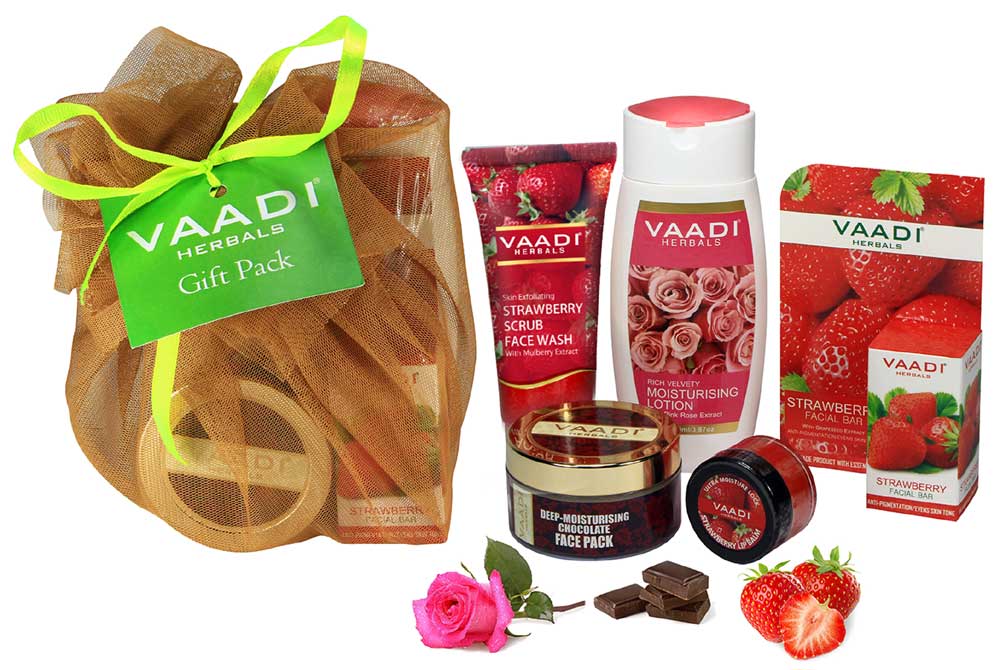 Skin Revitalizing Gift Pack (330 gms)
M.R.P. incl. of all taxes.
Celebrate new beginnings with this perfect Skin Revitalizing Gift Pack. Refreshing and enriching your skin and reviving its youth; this combination of products truly marks new beginnings.

Ingredients : Mulberry, Strawberry Extract, Cocoa Butter, Strawberry Essence Oil, Cucumber Extracts, Honey,  Turmeric Extracts, Almond Oil, Honey, Strawberry Extract, Vitamin E, Almond Oil, Grape Seed Extract, Strawberry Extract, Goat Milk, Pink Rose.

What causes a dull complexion?

•Sun & Wind Exposure

•Excess Oil Secretion

•Dryness

•Pigmentation

•Acne and Scars

•Undernourishment due to Vitamin Deficiency

•Lack of Blood Circulation

•Stress

All the above end up robbing off the shine and attraction off the skin leaving it parched and just another face in the crowd. Skin looks uncared for and brings us across as yet another commoner. A glowing clear skin exhibits health and maintenance. A perfect blend of Strawberry and Mulberry Extracts can bring about that dramatic change in your skin you wouldn't stop praising!

The pack contains:

Strawberry Scrub Face Wash (60 ml)

Skin Exfoliating Strawberry Scrub Face Wash Specially developed to fight dry and flaky skin condition, this face wash deeply nourishes and moisturizes the skin. While Strawberry mildly exfoliates the skin to remove dead skin cells and flakes from the surface, anti-oxidant and vitamin-rich Mulberry hydrates the skin and helps it repair faster. 

Strawberry Facial Bar (25 gms)

Enriched with the goodness of Strawberry extract, Almond oil & Grape Seed extract, this specialized Facial Soap deep cleanses your skin and removes dead skin cells. Rich in alpha hydroxy acid & multivitamins, it reduces skin aging & wrinkling & gets rid of skin blemishes. 

Strawberry Lip Balm (10 gms)

This specially formulated lip-balm grants a long-lasting moisturization to your lips; while satisfying your senses with its tempting strawberry flavor. It even nourishes your lips, to heal and prevent cracking; keeping your lips soft and supple.

 

Chocolate & Strawberry Face Pack (70 gms)

A rich chocolaty face pack, it has been specially formulated with a high percentage of cocoa's fatty content, to provide you pore deep hydration. It refreshes both your mind and body, providing you unimaginable relaxation; and a brighter more radiant skin.

 

Rich Velvety Moisturizing Lotion with Pink Rose Extract (110 ml)

An intensive all-purpose moisturizer, it is perfect for any skin-type. This great combination of natural emollients, Pink Rose & Goat Milk, helps the skin retain its moisture content and stay well-moisturized longer. Their rich multi-vitamin content penetrates deep into the skin's layers to condition & soothe it; making it healthy and granting your skin a "velvety" feel and a "rosy" glow.

Strawberry Scrub Face Wash :- Squeeze Out A Small Quantity On Wet Palms. Scrub The Jojoba Beads On Wet Face In Slow Circular Motion And Workout Lather. Wash Off, Pat Dry.

Chocolate Face Pack :- Take The Pack On Your Finger Tips. Apply A Thick Layer Evenly All Over The Face And Neck Avoiding The Eye Area. Keep It On For About 30 Minutes Or Until Dry. Rinse Off With Water. Pat Dry.

Strawberry Lip Balm :- Clean Lip Gently And Use Your Fingers To Apply The Lip Balm To Your Lips.

Strawberry Facial Bar :- Apply Over Wet Face And Neck. Gently Work Up Rich Lather. Massage Gently In Circular Motion. Rinse Off And Pat Dry.

Moisturising Lotion With Pink Rose Extract :- Cleanse Skin Thoroughly. Apply All Over The Face, Arms And Neck In The Morning And At Night. Makes A Perfect Make-Up Base.
Country of Origin: India
Manufacturer & Packer: Vaadi Herbals Pvt. Ltd.
Address: A-40, Jhilmil Industrial Area, Shahdara, East Delhi, Delhi - 110095.