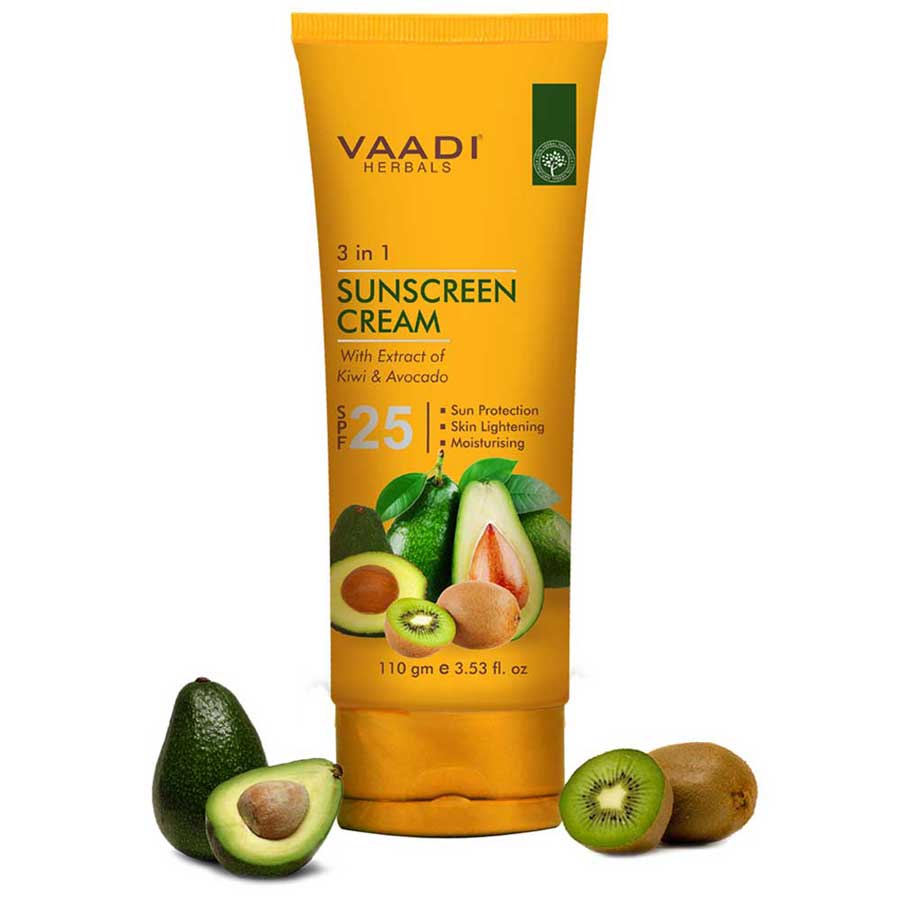 Sunscreen Cream SPF-25 with Extracts of Kiwi & Avocado (110 gms)
M.R.P. incl. of all taxes.
This nutrient packed 3-in-1 innovative cream protects, nourishes and enhances the skin all day long. Its anti-oxidant rich components protect the skin from harmful UV rays of the sun. The Kiwi and Avocado extract keeps the skin healthy by moisturizing and nourishing it from within. This cream also lightens sun tan and enhances the complexion. .

Ingredients : Wheatgerm Oil ( Triticum Vulgare Germ Oil), Aloevera Gel ( Aloe Vera Callus Gel), Manjistha Extract (Rubia Cordifolia), Coconut Oil Derivatives ( Cocos Nucifera Oil), DM Water (Aqua)

Why does the skin need protection from the sun?

The skin acts as a perfect shield from environmental changes and diseases. To carry on its functions effectively, the skin too needs nourishment and strength. The body gets the essential Vitamin D from the Sun. But what one over-rules here is the fact that the same Sun also sends the harmful UVA and UVB rays to the earth which are damaging the skin. If not kept under tab, it can also lead to permanent darkness, excessive pigmentation and in worst cases, skin cancer.

How can this 3-in-1 sun protection lotion protect my skin?

This extremely effective and easy to carry lotion in tube shaped bottle promises to keep your sun related worries at bay. It comprises of ingredients such as Vitamin C rich Kiwi which lightens tan and enhances the skin complexion. It also consists of Avocado extract which protects the skin from harmful rays of the sun and fights ageing due to over exposure. This lotion in SPF 25 should be liberally and evenly applied on face and exposed parts of body (arms, neck, legs etc). It should be re-applied if in the sun over 2 hours.

How is Kiwi beneficial for my skin?

Packed with Vitamin E and C, Kiwi fruit is that miracle ingredient that slows down skin aging thereby fading off wrinkles and fine lines with frequent use. Kiwi seeds are highly rich in omega 3 and fatty acids which keep skin healthy and glowing. Together with these and antioxidants, Kiwi fruit prevents the skin from the damaging effect of free radicals. Kiwi helps the skin get rid of toxins faster and feeds the skin all the necessary nutrients it needs to maintain the soft texture and immunity from external factors.

Apply Cream Liberally & Evenly On Face And Exposed Parts Of Body Before Exposure To Sun
Country of Origin: India
Manufacturer & Packer: Vaadi Herbals Pvt. Ltd.
Address: A-40, Jhilmil Industrial Area, Shahdara, East Delhi, Delhi - 110095.