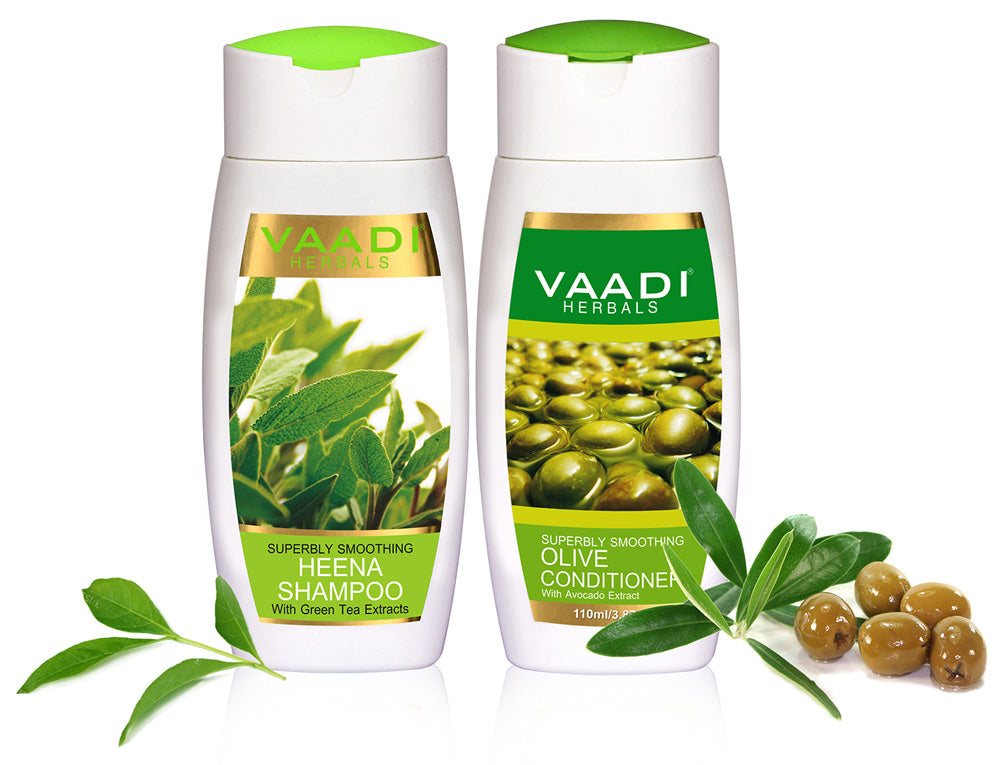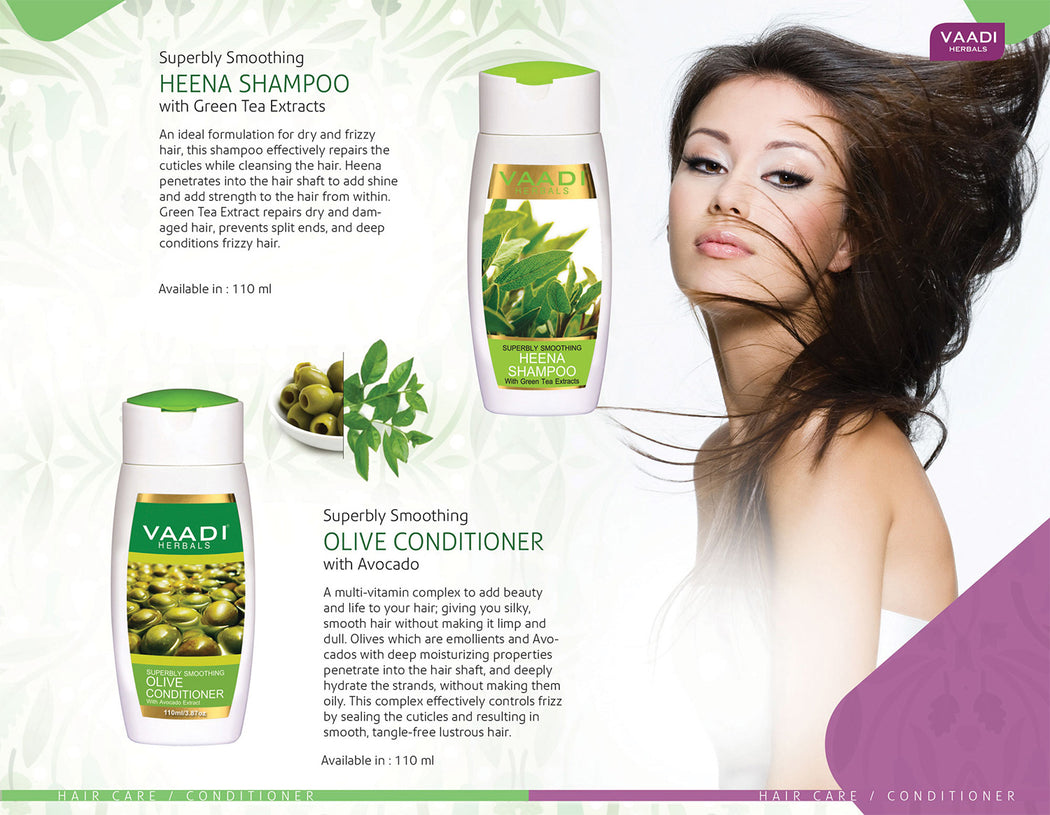 Superbly Smoothing Heena Shampoo with Olive Conditioner (110 ml x 2)
M.R.P. incl. of all taxes.
The shampoo in this combination is an ideal formulation for dry and frizzy hair and effectively repairs cuticles while cleansing the hair. Heena and Green Tea Extract restore dry, damaged hair while softening unruly frizzy hair. The multi-vitamin rich conditioner, its Olives and Avocados penetrate into the hair shaft, deeply hydrating the strands, without making them oily. This complex effectively controls frizz and gives smooth, tangle-free & lustrous hair.

Ingredients : Steam Distilled Heena Extract (Lawsonia inermis), Coconut Oil Derivative (Cocos Nucifera), Pure Green Tea Extract (Camellia Sinensis), Corn Silk Extract (Zea Mays Silk Extract Cas), Organic Honey (Mel Extract), Steam Distilled Extract of Olive (Olea Europaea), Pure Avocado Extract (Persea Gratissima), Coconut Oil Derivative (Cocos Nucifera), Organic Honey (Mel Extract),DM Water (Aqua)

Why is hair care important ?

Hair can make or mar your first impression. Styling is a part of the process but only healthy hair can turn out looking gorgeous. No hair spray or gels can work wonders for limp, dry and lifeless hair. For everything ever written in literature about beauty, the locks have a romanticism of their own. Everyday hectic life takes a toll on hair when one has no time to take care of them. With the sun's UV rays forever shining on the locks, damage is bound to happen. Also, wind takes off the moisture and makes hair frizzy and fragile, prone to breakage and a plethora of hair related problems like dandruff, itching and thinning furthermore elevate the stress levels. It's a cycle. The more the stress, the larger the effect on hair and skin, in general. We tend to buy into what products in the market claim without paying attention that after all it is chemicals we are feeding our dying hair. Natural ingredients, on the other, cleanse hair without harming the hair follicles and nourish them for a better growth and glossier look.

Why is Heena considered a magic ingredient for hair ?

Mehendi or Heena is known as nature's most effective hair conditioner which imparts a beautiful tinge or orange and treats hair related problems like no other herb. The most common hair problems involve dryness, frizz, dull and lack luster hair, hair fall and dandruff. Heena is the sure shot answer to all these and more. It deeply conditions the scalp and strengthens hair follicles, cools the scalp and keeps the flakes at bay. Over the time, you fill find that your hair are manageable, silky and have a dazzling shine which gets you compliments. You won't be able to resist playing with your hair every now and then. That's the magic of Heena. Hair tangles less, grows strong and long and split ends are reduced to a great extent. It is a wonder formula for the hair and is known for its effective hair pampering since ancient times.

What are the benefits of Green Tea for hair ?

Earlier apple enjoyed the ""one a day"" benefit. Nowadays, Green Tea gets all the glory. Have a cup in the morning and you are set to face an awesome day. But are your hair benefiting too? While drinking green tea gives your immune system a boost from the inside, having Green Tea in your shampoo is an excellent idea if you like your hair long, dandruff free, healthy and irresistible. The presence of a powerful antioxidant, epigallocatechin gallate (EGCG), in green tea makes it an effective treatment for hair loss. EGCG is a growth stimulant. By stopping the production of a molecule known as Tumor Necrosis Factor (TNF), the main cause of hair loss, green tea promises stronger and thicker hair with regular use. It prevents male baldness as well. Green tea soothes the scalp and helps clearing away the dead skin debris giving way to healthy scalp. It helps get rid of residue parabens which are chemicals that irritate the scalp. Rich in Vitamin C, Panthenol and Vitamin E, Green tea is a natural hair conditioner which helps in shielding hair from the sun, restoring dry and damaged hair and softening the hair. It gives a great texture to the hair and prevents the occurrence of split ends.

Why is a conditioner important after shampooing your hair ?

When hair are washed, with the impurities and dirt, an important substance is also lost to froth. This is called sebum which in other words is the oil secreted by sebaceous glands in the scalp to maintain moisture balance in hair and keep them from drying out. So, the conditioner is just a replacement for that lost sebum. It keeps hair shiny, healthy and soft. Benefits of using a conditioner with natural ingredients is evident from the fact that no unnecessary chemicals get to play with your scalp and damage the recently-washed hair follicles. Conditioner protects the hair from pullutants, wind, sun, etc.

How is Olive Oil beneficial to the hair ?

Olive Oil proves to be the best hair conditioner, thanks to its emollient properties that allow it to seep in the scalp and moisturize it so as to keep dry patches, baldness and frizz away. Hair strength and elasticity improves and hair feels softer, stronger and smooth in texture. Being anti-inflammatory in nature, Olive oil prevents scalp conditions and dandruff. The high levels of Vitamin E and mono-saturated fatty acids make Olive Oil a very useful antioxidant to keep hair safe from free radicals. Olive Oil adapts according to the scalp type.

What role do Avocado Extracts play in conditioning the hair ?

With a lovely smooth texture and length of hair, frizz mars the attractiveness as it gives rise to brittle hair and fly aways. Cuticles are exposed and prone to scalp conditions like lice, dandruff, allergies and importantly, impurities. After proper cleansing, it is important to keep the moisture of the scalp intact so as to avoid dry patches and further, baldness. Avocado Extracts promote hair growth and to dry and damaged hair, they are a boon. Packed with Vitamin E and B, Avocados work to the cells so as to stimulate growth. Dry and damaged hair do not grow property. Vitamin E makes sure to heal the scalp so as to make way for healthy hair that glows with shine."

Apply Vaadi Shampoo On Wet Scalp And Hair. Massage It Gently Into The Scalp. Rinse And Repeat If Required.For Best Results Use Vaadi Herbals Red Flower Nourishing Conditioner. After Shampooing, Take An Appropriate Amount Of Conditioner On Your Palm. Apply All Over The Hair Working Through Ends. Wait 3-5 Minutes. Rinse Thoroughly. For Best Result Use With Vaadi Herbals Shampoo.
Country of Origin: India
Manufacturer & Packer: Vaadi Herbals Pvt. Ltd.
Address: A-40, Jhilmil Industrial Area, Shahdara, East Delhi, Delhi - 110095.