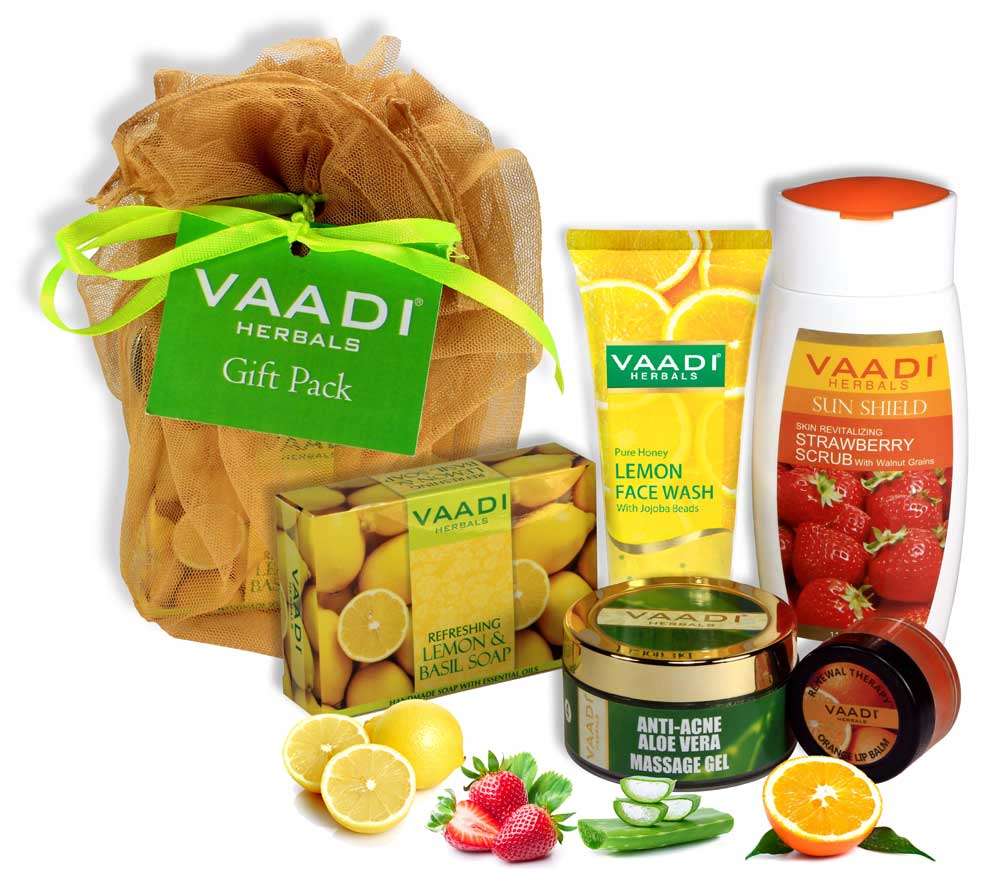 Youthful Skin Gift Pack (355 gms)
M.R.P. incl. of all taxes.
This Youthful Skin Gift Pack takes care of all your skin needs to reveal your hidden youthfulness and enhance your natural radiance.

Ingredients :Lemon Extract (Citrus Medica Limonum), Steam Distlled Basil Extract ( Ocimum Basilicum Leaf Extract), Extra Virgin Olive Oil ( Olea Europaea Fruit Oil), Jojoba Oil (Simmondsia Chinensis Seed Oil), Steam Distilled Lemon Extract (Citrus Medica Limonum), Orange Seed Oil (Citrus Aurantium Dulcis), Honey (Mel Extract), Vitamin E ( Tocopheryl Acetate), Jojoba Oil (Simmondsia Chinensis Seed Oil), Steam Distilled Aloe Vera Extract (Aloe Barbadensis), Kokum Butter (Garcinia Indica Seed Butter), Pure Jojoba Oil (Simmondsia Chinensis Seed Oil), Organic Beeswax (Beeswax), Strawberry Extract ( Fragaria Ananassa Fruit Extract), Green Apple Extract (Pyrus malus), DM Water (Aqua)

Why is a good skin care regime important?

The skin is as important as the inner-self, mind and soul. The attack of harmful toxins on the body is nullified as the skin acts as a protective covering. Prevention of allergies in another important reason for skin care as allergies can cause cracked, red and swollen skin which is further vulnerable to microbes which can break in the layers and cause infection to the body. Also, regular skin care fades away tan, sun spots and blemishes which are caused due to sun exposure. A face wash enriched with the goodness of honey, lemon and jojoba beads will act as a prevention as well as cure against all the harmful effects listed.

Lemon Face Wash (60 ml)

A perfect cleanser that only rids the face of excess oil, but also ensures that it doesn't dry up. Lemon's acidic nature breaks down the excessive oil molecules and unclogs the pores, thus fighting acne break-outs and blackheads. Honey, a natural humectant, keeps the skin hydrated and also fights acne.

 

Strawberry Scrub Lotion with Walnut Grains (110 ml)

This complex has been specially formulated to pamper your delicate skin, and undo the harshness of sun-exposure. Green Apple and Strawberry mildly exfoliate the skin, ridding it of dead cells and tanning. Both being anti-oxidants, protect the skin from UV damage to reveal a smoother, and younger complexion. 

Lemon & Basil Soap (75 gms)

This vitamin-rich soap detoxifies, tones and brightens up your skin, while cleansing it. It rids the skin surface as well as pores of dirt, grime, excess oil and germs. It thus keeps your skin clean, while moisturizing and nourishing it.

 

Aloe Vera Massage Gel (50 gms)

Aloe Vera Gel is extracted from the medicinal Aloe Vera plant's leaves by process of squeezing. This is extremely useful in a number of ways. For the Skin, Aloe Vera is no less than a medical factory having cure for almost every skin problem possible.

Orange Lip Balm (10 gms)

Vaadi Herbals Lip Balm Orange & Shea Butter contains pure orange oil, jojoba oil and shea butter.

 

 

Aloe Vera has the following benefits:

Healing and cooling action: Aloe Vera cures chapped and dry skin by providing it essential moisture and cooling it from within while healing it. Aloe Vera removes the dead skin cells which get accumulated on the skin and make it dull and prone to acne and irritation. Aloe Vera soothes and cools the skin facilitating a faster healing. Best Natural Skin Moisturizer: It's moisturizing property is commendable because after curing the pimple and acne prone skin, it also moisturizes it. It penetrates deep in the layers and helps in nourishing the skin from within, imparting a kissable glow. Excellent toner: Aloe Vera regulates the oil balance making the skin even tone and reduces occurrence of lines and blemishes. It gives the skin a smooth texture making it look younger, healthier and happier."

Lemon & Basil Soap :- Take Soap And Lather In The Hands. Apply The Lather To The Entire Body, Gently Massage And Enjoy The Pure Delight Of Our Herbal

Honey Lemon Face Wash :- Squeeze A Small Quantity On Wet Palms. Crush Mili Capsules And Work Out Lather. Apply On Wet Face With Circular Movements. Wash Off.

Strawberry Scrub Lotion :- In The Bath Or Shower, Place A Handful Of Scrub In The Palm Of Your Hand And Gently Massage Into Skin. Rinse Thoroughly And Pat Skin Dry.

Aloe Vera Massage Gel :- Apply A Scoop Of The Gel, Gently Massage All Over The Face And Neck In Circular Upward Direction Until It Gets Absorbed In The Skin Completely.

Orange Lip Balm :- Clean Lip Gently And Use Your Fingers To Apply The Lip Balm To Your Lips.
Country of Origin: India
Manufacturer & Packer: Vaadi Herbals Pvt. Ltd.
Address: A-40, Jhilmil Industrial Area, Shahdara, East Delhi, Delhi - 110095.